Can you? We've heard no shortage of stories of independents who've stayed active that long leased to different carriers or on their own, but never with the same company. (If you have, I'm all ears!)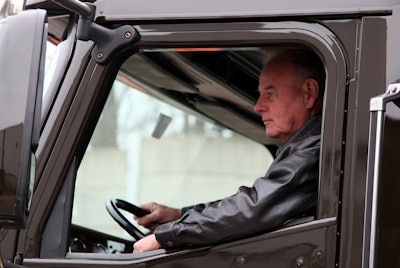 I can't think of a company driver who's done it, either (though Wisconsin-based Butch Mueller is getting pretty close), and as far as UPS knows, Springboro, Ohio, resident Ron "Big Dog" Sowder (pictured) "may be the only [company driver] in the trucking industry to have ever done that" with a single carrier, company reps say. As I wrote on here on the blog back in January, he's certainly the longest-serving member of the company's elite "Circle of Honor" all-safe-mile drivers with more than 25 years under their belts, by far.
The driver started his career with the company in 1962 after serving in the Navy. "I was a boiler operator," he says of his armed forces M.O. — "high-pressure boilers on a destroyer." When he saw a UPS employment ad in the newspaper shortly after returning from service, "it was a slack season for jobs" and "there were all kinds of people there" making applications in Cincinnati, he says. "I was one of the very few who knew anything about UPS at the time."
He got one of the jobs, delivering locally for a time before going over-the-road. A full half-century later, he's still working for the company on a feeder run that starts every workday morning at 8 a.m. at UPS' West Carrollton, Ohio, center. "I go to Sharonville, then to Cincinatti." From there he's Louisville-bound, where he picks up "second-day-air volume back" toward where he started.
In January this year, UPS held a big celebration for Sowder at the West Carrollton operating center to culminate his half-century of service. It started with "a police escort by the state patrol from Monroe all the way back to West Carrollton – one car in front of me and one behind me," he says. "I turned my CB on and the truckers were sure I was carrying a gold shipment. They escorted me up to the gate," where the banner pictured above marked the finish line for Sowder's 50 years. Cue the confetti cannons. (Find a video featuring scenes from the celebration at bottom here.)
A steak dinner at Jag's in West Chester, Ohio, followed the celebration, with a "ride home in a stretch limo," says Sowder. It was there outside his home "the next morning to take me to work, where breakfast for everyone" was served.
All in all, he says, it was a fantastic high mark in a long, stable career. He cites general job satisfaction as what's kept him with UPS this long, chief among perks being "good pay, benefits, you name it," he says. "Our pension I'm enjoying right now," at age 72.
Looking back, among the many changes he's seen in 50 years, while some have been for the worse, he says driver comfort advancements in equipment are certainly a contender for one of the biggest industry changes. "Some of the stuff we drove over the years wasn't the best," he says, recalling the days when "the back of your leg would burn up. The trucks we have now are so much better" in creature comforts.
"We've turned over a million miles in my truck as of the fall and it still rides and drives like new," he adds of the 2006 International he slip-seats with another driver on the night shift today.
At once, though, he misses the solid feel of the 1950s-model Reo Royale he drove in the 1970s. "They only made about 25 and UPS owned 23 of them," he says. "It was built up good. There's no plastic like they put on the trucks today – everything was steel and held the road in bad weather. It was the best one I ever drove."
He plans to "at least finish out the year," he says. After that, his collection of 23 antique farm tractors – among them John Deere, International, Oliver and Farmall models — needs attention. "I really don't have a lot of time to keep them going," he says.
Otherwise, "I'll do some serious fishing and maybe go on some cruises," he says.
[youtube Kv0tbjjrEVE nolink]