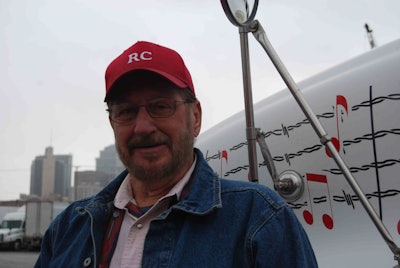 Since I shared his "Old Glory" video here on the blog, I've had the opportunity to learn more about the man behind the vid: R.C. Barnes ultimately might have more experience behind the wheel of a trucking business than any other hauler on the highway today. "I've heard there's two guys out here who are as old as I am," says the 77-year-old Youngstown, Ohio, resident, "but nobody who's been out here as long as I have." Having begun a putative trucking career at the tender age of 14, when he hitchhiked his way from custodial great-grandparents in Waynesboro, Penn., to find his mother in Holt, Ala., Barnes ultimately has more than six decades of driving under his belt.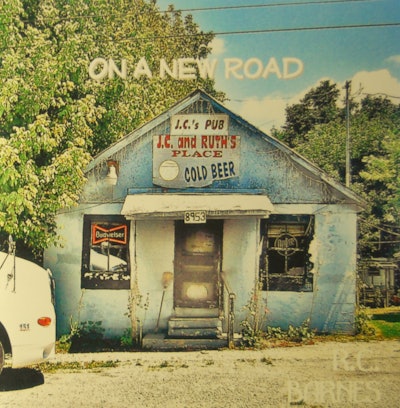 Yet he's no stranger to big life changes. And for the past three years, he's been taking his lifelong love of music – he's played bass in bands and has been writing songs since the 1960s – to Nashville, recording an album and, most recently, producing a five-song demo in preparation for a new album in 2012. If all goes well, he'll put a driver in his Class 8 conventional and hop in his Silver Eagle coach (Garth Brooks' first tour bus, he says). Today, Barnes hauls for Cleveland-based G&W Hauling & Rigging, to whom he's leased today with a 1998 Kenworth T2000 pulling flat and step deck freight.
After playing bass and singing in bands for decades, including covering all manner of Merle Haggard tunes, years ago a friend told him, "'R.C., you sound just like Merle Haggard.' I said thanks," as he tells it. "And he said, 'No, I'm not complimenting you. We already have a Merle Haggard — we need an R.C. Barnes.'"
Aside from trucking, he's focused on honing his own sound since then, and around three years ago, his boss and longtime friend at G&W, company owner G.W. Starkey, who well knew of Barnes' songwriting and playing abilities, invited him over to his home to help teach his teenage son a few tricks on the guitar. It turned out "he was only 16 and he knew a whole lot more than me," Barnes says, but on the strength of several of Barnes' original songs, Starkey urged him on to Nashville. "We got on the computer and found people [in Nashville] to contact" about the potential of recording, Barnes says.
Ultimately, he found Ron McClaren at The Studio at DCC in nearby Lawrenceburg, Tenn., and recorded his "It's Not the End of the Road…Yet" record. The friendships and associations developed in the process put him in touch with bluegrass acts recorded by McClaren, like the Huntley Sisters. The sisters' mother happened to be a good friend of bluegrass legend Rhonda Vincent and, ultimately, Barnes would share a bill with her and the Huntleys at the historic Crockett Theater, among other shows there. "From there, it just blossomed, like a storybook," says Barnes.
Other associations led to collaborations with singer Amanda McReynolds, granddaughter of Opry legend Jesse McReynolds, and Texas songwriter Jason Allen, among others. (Hear a version of Barnes' "Home Sweet Honky Tonk" recorded by Allen via rcbarnesmusic.com here.)
All in all, for Barnes things are proceeding well. He's is planning on returning to Nashville in January to finish tracks for a new album. Keep an eye out for it via his website. It will fill out the "On a New Road" EP with more Barnes originals, and he's hoping to spur on a collaborative effort with tunes by Vincent, the Huntley Sisters and others.