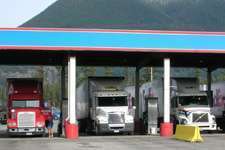 A poll that asks for owner-operators' thoughts on the use of fuel surcharges as a cushioning agent against spikes in fuel prices sparked some discussion on Facebook last week. Owner-operators Linda Caffee, Jeff Clark and others were involved, Clark taking the point of view that fuel surcharges were merely a utility for negotiating long-term rates in contracts with shippers. The fuel surcharge "is a convenience, especially for longer-term contracts with regular customers," Clark wrote. "Otherwise every load would have to negotiated."
For a leased owner-operator who is not in the position to be negotiating such contracts, it makes no difference whether a $500 load pays the flat $500 or $350 plus a $150 surcharge, for instance. "Don't get hung up on the surcharge," Clark continued. "Maximize your net income."
But as so many leased owner-operators well know, fuel surcharges can be a profit center that encourages fuel efficiency — beating your carrier's average fuel mileage, or the base mpg that is used to calculate the fuel surcharge in contracts, load to load means more dough on the bottom line.
Writer Tim Brady, also part of the discussion, subsequently weighed in on the issue of the relevancy of the old surcharge model, arguing for a change in terms — carriers large and small, he wrote, should stop thinking about the surcharge as such and move toward more dynamic rate structuring that in real time takes account of the cost of fuel.
Utilizing tools like Overdrive publisher Randall-Reilly Business Media's FuelSurchargeIndex.org, among others, to get frequently updated lane averages for fuel prices, such dynamism in rate structuring is certainly much easier today than in the early days following the end of ICC-set surcharges.
Take a look at Brady's blog post on what he calls a Fuel Cost Adjustment Policy (or Fuel CAP). It's an interesting one.
And if you haven't as yet, take a moment to vote in our poll below: