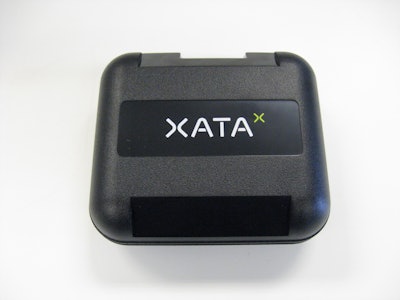 Today, following yesterday's post relative to the problems E.F. McHenry noted with electronic on-board recorder use for hours of service tracking, the folks from Xata, maker of one of the more low-cost EOBR solutions on the market, offered up a list of 10 benefits of the devices. It originally appeared under the head "10 Great Reasons Why EOBRs Are a Trucker's Best Friend" over on the company blog here.
Following find a distillation of their 10 reasons. Follow this link for the full post. Xata's EOBR solution pairs the pictured black box, connected to the truck ECM, with a logging app on an operator's smartphone or tablet. You can find Xata on Facebook here.
1. More miles on the road means more dollars in your pocket
Paper log systems require "rounding up to the nearest 15 minutes," but that increment "is reduced to the nearest minute on elogs…. For many drivers, that single factor can translate to an additional 5-10 hours of driving time each week."
2. Zip through roadside inspections with EOBRs
"EOBRs enable an enforcement officer to quickly see potential violations in a driver log, including 11 hour driving violations, 14 hour on-duty violations and 60/70 hour violations without flipping through pages of a logbook," translating to more drive time, less hassle.
I've heard of drivers actually putting "elog" stickers — one even going so far as to have it painted on his driver-side door — on their trucks to avoid the delay of a log-book check.
3. Operating paperless and headache-free
"All drivers have to do is make sure they're logged into their EOBR and let it roll. No more paper logs or trip sheets, and never record your mileage at a state line crossing again."
4. Error-free logs keep you out of the doghouse
"Since e-logs, e-DVIRs, and IFTA fuel tax reporting are automated, you can be sure your paperwork will be free of form and grammar errors, hours will be correctly totaled and logs will always be signed."
5. Audible alerts help you stay hours-of-service compliant
"As their clock begins to wind down for the day, notifications remind them that it's time to pull over…while there's still time to pull over somewhere safe."
6. Protect your personal assets and professional reputation with an EOBR
Xata believes could help drivers prove fault in an accident. "Black boxes accurately capture driver and vehicle behavior immediately before, during and after an accident. That means carriers have a simple way to reconstruct accidents and defend against lawsuits where crashes were caused by other drivers." And further, "EOBRs can also protect a driver's reputation from accusations of stolen freight. When cargo goes missing and carriers can prove their tractors were nowhere near the scene of the crime, they can substantiate their driver's innocence with hard data."
7. Increased visibility means the home office can work harder for you
"EOBR asset tracking … means carriers can counter claims from shippers and receivers that drivers were delayed, when they were, in fact, waiting at the location and it was the warehouse personnel that weren't ready to load cargo." Likewise, if you're leased, Xata says, scheduling with dispatch is easier given truck location visibility.
8. Interoperability of working with other fleets means more opportunity
"An electronic system can help an owner-operator become more profitable, making it easier to move them from run to run based on their remaining available hours of service. Dispatchers can clearly see the hours remaining to help best plan for a safe load."
9. Roadside assistance when you need it
"With EOBRs, dispatchers can quickly identify a trucker's location and get them back on the right road or help direct a nearby tow truck to service the rig."
10. Mobile applications give you more functionality on the road
"A mobile device running Xata Turnpike alongside other applications like ALK's CoPilot Truck and email can give truckers the tools they need to operate when away from home. They also provide an easy way to stay in touch with family and friends, and many smartphones and tablets provide countless entertainment options."