We noticed an interesting on-highway bedfellow among the exemplars of effective writing in this month's Wylie's Writing Tips newsletter. Near the bottom of the letter, the writers urged us all to "tweet like WADOT…
"The Washington State Department of Transportation feed brings a sense of humor to public service announcements and other official communications."
Wylie provided these sample tweets, for example: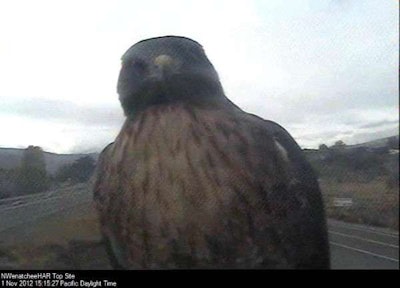 Pretty funny, yes, but when @wsdot on Nov. 2 posted the still at right from a traffic camera in Wenatchee, Wash. — asking, "What do you think he wants to tell us?" — the responses @wsdot followers left were better, I'd say:
@wsdot He's asking if you can point him to roadkill
@wsdot Probably just verifying the camera works for ya.. spare the work crews some angst ;)
@wsdot I'm pretty sure he wants to tell us to #Approve74 cause he supports Marriage equality! :-)

Excepting that last tweet, here's to Election Day Channel 19 reads that have little to nothing to do with politics. Here's hoping you got your votes in early if you're out on the road today. Speaking of which,
check out this new poll on how you voted
— absentee, early, in-person today or by another method.