Eyes will be on the Mack bulldog through the end of the year — 1.5 million of them daily, the company estimates, as the old dog sends a message to walkers and drivers in Times Square in Manhattan, New York City, from the "Super Screen" on the CBS building. Mack is running three different 10-second videos on the 26-by-20-foot screen through January 1, each one shown every hour all featuring the dog.
The video messages include "Nothing Keeps You Going Like a Best Friend", "Happy Holidays and Safe Travels from Your Friends at Mack", and "Born in Brooklyn — 112 Years and Still Going Strong (That's 784 Dog Years)."
For more on Mack's long history, you might start with this link back to a post about a book detailing a post-WWI-era cross-country military convoy the company's trucks were involved in.
Name my CB handle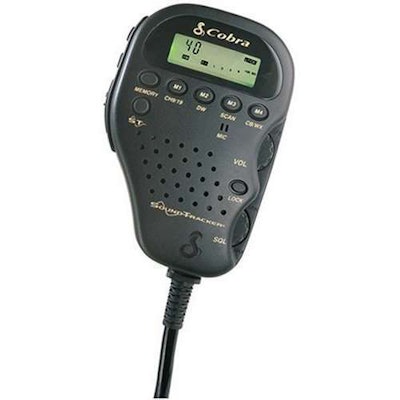 So I've more or less installed (minus some necessary mounting as yet) my first-ever CB, drivers. It's a Cobra 75 WX ST (pictured), built for the small confines of passenger autos, this one to be operated from the mini-cab of my '05 Ford Focus. (I know what you're thinking: About time the writer behind a blog called "Channel 19" joined the real world, and I concur!) In any case, I'd like to open up the airwaves, as it were, to suggestions for a suitable handle…
The last time I brought up the subject, in conversation with some folks at the Truck Driver Social Media Convention in Kansas City last month, someone brought up the song "The Mocker" by the surf-punk band Deadbolt as a kind of joke — the song tells the story of a four-wheeler who annoyingly repeats everything said on Channel 19 as the drivers around him go completely crazy.
So, any better suggestions?