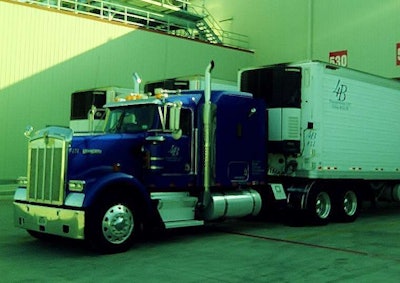 More and more, owner-operators are leaving their laptops back at the home base and doing business on the road exclusively from their smartphones and tablets. Take the example of 4B Transportation LLC owner-operator Cody Blankenship, whose 2003 Kenworth W900B and reefer trailer are pictured (he also owns a hopper bottom that doubles as an open-top van).
Headquartered in the Waco, Texas, area, the owner-operator says he "used to carry a laptop, and I was paying about $40 a month" for Internet service on it when he realized that was a cost he could eliminate, given the speed and capabilities of the browser on his Blackberry smartphone. Today, with a basic search and post account with the GetLoaded online load board ($29.99 monthly), Blankenship uses the phone to access the board via the mobile browser when he needs to fill his reefer or hopper trailer, though he's only an occasional user of online load resources.
More frequent users can bypass their phones' browsers in many cases and take advantage of a multiplicity of native smartphone apps for iPhone and Android (Blackberry for some) that boards and various brokers have developed to facilitate the many permutations of carrier/broker/shipper connections. Some, like Transcore DAT with its TruckersEdge mobile site, have optimized the website for accessibility on a wide variety of phone platforms, in addition to streamlined apps for other users as well. While we've written about DAT, GetLoaded (also now on Android), Internet Truckstop, TQL and uShip phone apps, a few newer additions to the phone-freight game are detailed below.
If you use your phone or tablet to find freight, what apps/services do you rely on? What do you like about them? Tell me in the comments.
Bulk loads app
BulkLoadsNow.com launched three years back, says Operating Manager Jared Flinn, as a load board serving the needs of shippers and carriers in "hopper bottom, end dump, walking floor, live bottom, tanker" and other bulk applications. Since its launch in July of 2012 for Android and iPhone, the company's BulkLoadsNow app has been averaging around 10 new downloads daily, Flinn adds.
An account to search loads and post your truck on the board is available for bulk owner-operators at $29.95, and the app and BulkLoadNow.com website include several features specific to bulk haulers, including a searchable database of washout locations. Other features are apparent in the home screenshot here.
FTL Logistics app powered by Internet Truckstop
The first in what will ultimately be a series of "branded broker" apps the folks at Internet Truckstop have developed coordinating with brokers on their technology needs is the FTL BFF app for iPhone and Android, says IT Director of Sales Thayne Boren. It's built to streamline the connection between Fikes' brokerage wing and its owner-operator partners.
Talking about the "branded broker" program of app development broadly, Boren adds, "within a particular application, [a load] will have the specific agent or rep listed as the contact for that load. Users can immediately call that broker with the push of a button."
They're working also on efforts to streamline the user experience to potentially eliminate phone calls where appropriate. A pilot program ongoing with one of the brokers working with IT on a branded app is testing more automated load selection, right from operators' phones. "They could select the load right from the app and it could generate the appropriate notifications," says Boren. "It's pretty early in the development stages. We also have a scanning function for signature capture within the branded broker application," likewise a way to automate check-call statuses using cellular location data.
Internet Truckstop is close to deploying the second in its series of branded-broker apps, says Boren, and has around 10 others in development.
If you're working with Fikes Logistics, give the new FTL BFF app a tour by downloading it via the screenshot included here.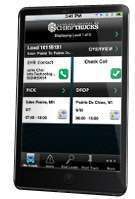 C.H. Robinson's app
The CHRW Trucks app has been available for carriers who work with the brokerage since November of 2011 and is available for both iPhone and Android platforms. You can download the app via the company's CHRWTrucks.com portal to online carrier tools. From within the app, make check calls in two clicks, access directions to shippers and consignees with the push of a button, access freight and more. As with other load-selection apps, C.H. Robinson touts the app as holding the potential to cut down on the hustle of paperwork so many loads require.