I was trying to pin down an old half-remembered saying about the prominence of cynics, about how more loudly the negative feedback loop screams in the public sphere than its positive counterpart, when I was reminded of this from none other than pre-Bolshevik Russian novelist (and a longtime personal favorite — check out Notes from Underground or The Idiot sometime) Fyodor Dostoyevsky: "Man is fond of counting his troubles, but he does not count his joys. If he counted them up as he ought to, he would see that every lot has enough happiness provided for it."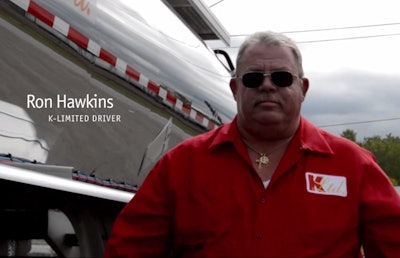 The reason I'd gone looking is that it's not often a carrier's recruiting initiative gets my attention, but credit's due where deserved. The 80-truck Ohio-based liquid bulk carrier K-Ltd. recently launched a new version of its website that, while putting on a good face for potential customers (as do most websites) does something else, too. Featured front and center are K-Ltd. drivers Ron Hawkins (pictured), Jay Hannibal and Scott Harrison, whose short testimonial vids are the principle vehicle telling the story of the company's three core values of pride, performance and professionalism.
The drivers have good things to say about K-Ltd., of course, and I found their words refreshing. Now how about you? Been counting up your joys? Got something good to say about the company you keep?
Tell us in the comments here. I've embedded one of the vids from K-Ltd., with second-generation K-Ltd. driver Ron Hawkins, below, and you can check out the rest via K-Ltd.'s Youtube profile or on its website here.
[youtube 2wIdB5b8haM nolink]