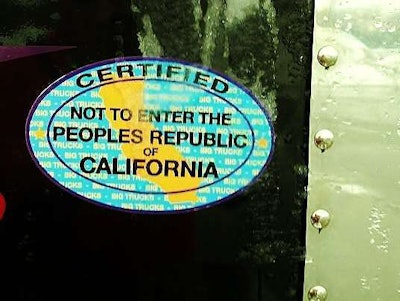 Overdrive reader Jackie Wormley recently shared the picture at right on Facebook — though she remains unsure of its provenance, the sentiment the sticker expresses is one she's certain she agrees with. She's joined the owner-operators who are doing everything they can, she says, to protect the long investment they've made in their older equipment by "trying to find different things to do" so they "don't have to go to California."
Since I wrote about Cali-based Martin Jez and his 1988 Peterbilt cabover several weeks back (good in the Golden State through 2015, though some newer models have already required expensive upgrades), I've heard more and more such stories, here and via Overdrive's Facebook page. Mark W. Arnold, for instance, commenting on the recently repealed Warner Robins, Ga., parking restriction on Facebook, noted he didn't mind the restriction: "Run your town the way you see fit," he said, "and I will run my trucking company the way I see fit. I have banned California, New York City, New Jersey, Iowa (because they didn't like tinted windows) and plenty of others because they didn't care if I brought them their product or not."
If they're not out there already, I'd bet the market for these stickers would thrive should someone go the mass-production route.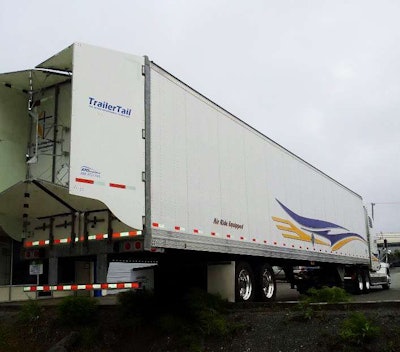 Owner-operator Wormley, whose 2001 Freightliner FLD and 2003 Hyundai dry van are pictured here, agrees. "Maybe I'll talk to my graphics guy in Texas and see if he can work something up," she says. "Any good vinyl shop ought to be able to do it. Maybe we can make a market for them."
If she was running into California today, the only way to do it legally would be with an aftermarket DPF installed. She's worked hard and put no small amount of time and money into her equipment — including an in-frame and Pittsburgh Power performance turbo, power box and manifold for her Detroit Series 60 engine as well as a performance muffler and FASS fuel system — to extend its life as well as boost fuel mileage. How about this for results: "I'm a little lower in the winter," she says, "around 7.79-mpg for fuel mileage – last summer I was pushing 9 mpg" with an 8.8 mpg average over the warmer months.
Leased to Landstar, Wormley's dedicated Iowa-to-Montana run keeps her loaded with no more than 15,000 lbs. in the box, which helps. But all told, if you were getting that kind of mileage and had no major problems, would you want to make changes that might well reverse the trend?
You'll find California powertrain upgrade/replacement requirements and associated schedules, among other resoruces, via this post.