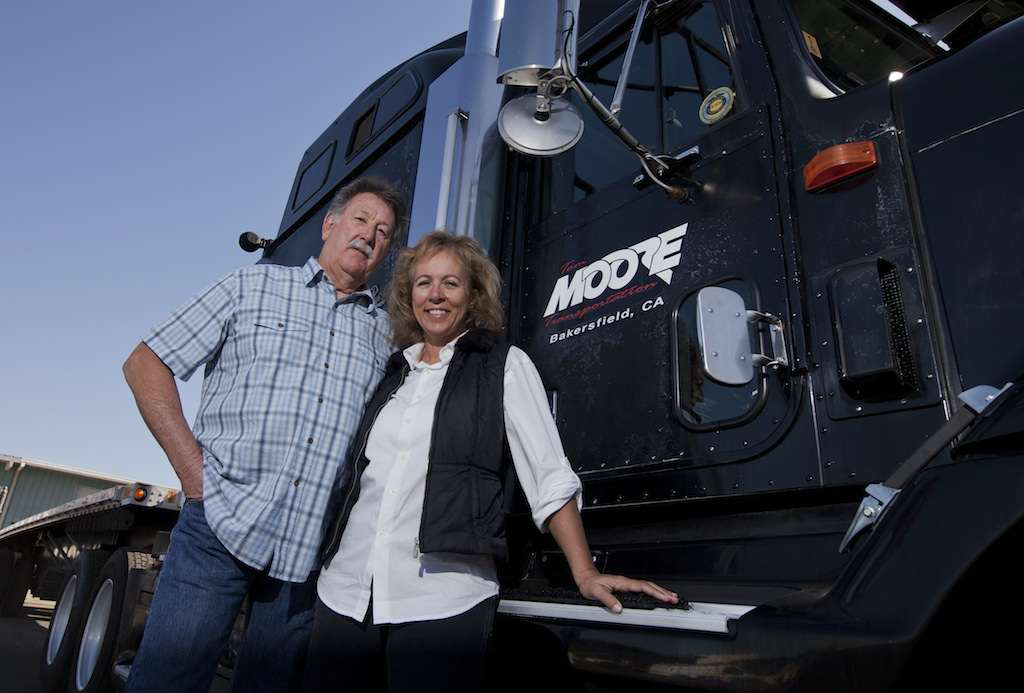 One the reasons I originally talked to California-based independent team Karen and Tom Moore (pictured with their International 9400 and flatbed), whom I wrote about last week relative to their home state's emissions equipment regulations and the quandary they find themselves in (mulling over upgrading their truck or calling it quits), was that I saw a Facebook post Karen had made several weeks back about a close call with a tornado.
It's one of those fairly uncommon public stories involving local law enforcement with a positive outcome, the kind of thing we just don't hear enough in the trucking world given the negativity of so much of the regulatory side of the business these past several years.
It goes a little something like this: "We'd seen and been very close to tornadoes before," says Tom about the experience, May 22, two days after the Moore, Okla., disaster. "They're scary events, for sure, and here we were driving at night through a storm where the lightning just wasn't stopping – the sky was constantly lit up like a big lightbulb flashing." Rain, hail, wind, "we thought we'd driven out of it and we got to Campo, Colo.," on Western edge of "tornado alley" way down in the Southern part of the state on U.S. Highway 287.
"We were tired of battling the storm, and we felt we were out of it," Tom goes on. "There's a vacant service station on the outskirts of town and we pulled in there and there was another truck in there."
Campo is a very, very small town. On the map, its entirety looks like this: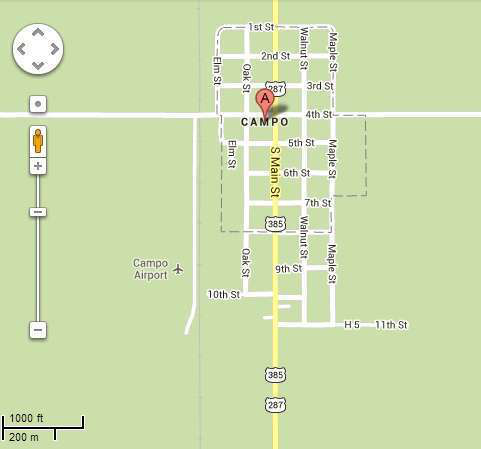 "We heard some folks on the radio and another truck pulled in," says Tom. At a certain point not long into their stay, "the sheriff came on the radio and said there's a tornado warning — you need to get to the church half a block down the street." He went farther with it, with specific directions to "parking in the vacant lot across the street," Moore says. "And there was a shelter in the basement. They turned the lights on in the church and we were ready to go – we sat there and waited and waited and waited."
The town officials didn't just leave them wondering when it would all be over, either. They didn't try to run them off with no-truck-parking ordinances or notes taped to the windows. "Finally," says Tom, "they came back on the line and said the tornado warning had been lifted – if there came another warning , they said they'd bang on the door and wake us up."
It wasn't the Moores' best night of sleep, "but it was a cool experience," Tom says, "pretty neat they were taking the time to take care of the truckers who were spending the night in their town."
Kudos to you, Campo.