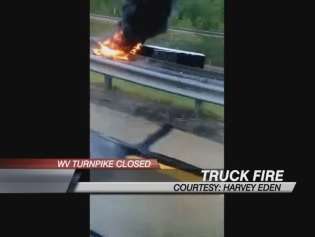 There's been a recent series of truck-involved accidents on the I-77 portion of the West Virginia Turnpike, near the old two-lane Memorial Tunnel, shut down when in the 1980s-90s a four-lane tunnel bypass was built. Sharp turns in the area coupled with wet conditions (and excessive speed, W.Va. Turnpike officials surmise, perhaps jumping to conclusions) appear to be primary causes, but regardless they're employing a "skid test" of the pavement under dry conditions to determine whether problems with the road could be contributing . You can read more about it all, including officials' efforts to suss out the root causes, via this story on the site of the Register-Herald newspaper.
And be forewarned, I suppose: There you'll also find the news that the state DOT is increasing officer patrols and inspections between and near milemakers 74 and 78 on I-77 around the old tunnel, and they're looking to prove out their a priori theory:
Barr said troopers plan to increase patrols in the area between Mileposts 74 and 78 to see if speed has been a factor, and what has been a mere warning likely will turn into some real speeding tickets. The Public Service Commission likewise will be conducting accelerated checks of truckers. More here.
Worse yet, an editorial published yesterday in the Register-Herald got all aw-shucks about it, offering sarcastic treatment of the notion that there could be a problem other than scofflaw truck drivers running recklessly. The writer began his piece with a quote from Will Rogers — "You can't legislate intelligence and common-sense into people" — then reveled in the glory of the beautiful West Virginia Turnpike, beset now with danger for tourists and four-wheelers who use the Pike regularly:
Sharp turns.
High speeds.
Big rigs.
Rainy conditions.
What part of this equation mystifies the persons behind the wheel?
And then for the worst part of it all, the writer invokes Rogers, yet again, well-known for his "I've never met a man I didn't like" quip:
Rogers may have never met a man he didn't like, but we're quite sure he didn't have the opportunity to ride the turnpike beside of a semi trucker, precariously barreling down the pavement. That experience may have made even this most affable gentleman grit his teeth. Read the full editorial here.
I'm all for improving highway safety and preventing crashes, but jeez…