I caught up with two familiar faces at the back of the lot at Fitzgerald's in Crossville, Tenn., today — the pair of Bill Blankenship and Tobby Donalson, old friends and coconspirators from the McMinnville, Tenn., area I've met in past during various Middle Tennessee American Truck Historical Society chapter shows. I wrote about Blankenship's 1978 Kenworth W900A, which he uses in his Blankenship Farms and Nursery business, on the occasion of an ATHS Music City Chapter show in Crossville last year.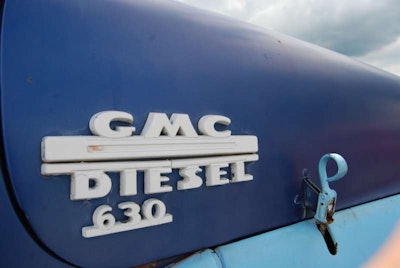 And to Fitzgerald's Blankenship brought out this classic GMC 630 with an 18-inch factor coffin sleeper that comes from a time — model year 1953 — when, Blankenship says, "trucks were trucks." It's got a 4-cylinder Detroit diesel, 5-speed transmission with 2-speed rears and a 4-speed auxiliary.
It pumps out a hefty 134 horsepower, he says.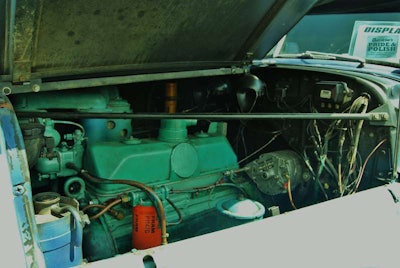 "I can still run the roads with it," without a trailer, Blankenship says. Evidence: He drove it out to Fitzgerald's in Crossville from his home base in McMinnville, after all — Donalson he says rebuilt the motor shortly after, two years ago, Blankenship acquired the truck and "broke it," he adds. Before the truck's former McMinnville-based owner passed away, "he and his brother used it to haule antique tractors around to shows," Blankenship says. "It's in pretty good shape."
And a nice reminder to Pride & Polish competitors and attendees of truck history, should they have needed it, I'd wager.