I've written about the Fair Labor Standards Act of 1938's company driver exemptions from overtime pay and the reasons many feel it was put into place in the first place — the argument that it was impossible to prove the hours worked by drivers far from home, hence an hourly pay system wouldn't work well and paying overtime would not only be hard to compute but wouldn't exactly encourage prompt delivery to locales in need of what drivers were carrying.
The 1930s were a very long time ago, of course, in communications technology history, and you'll recall owner-operator Joe Ammons' efforts to show driver support for repeal of the FLSA exemption in light of the mandate for electronic onboard recorders for hours of service tracking written into the MAP-21 highway bill last year. With EOBRs, it won't take a whole lot for carriers to track drivers' time worked in a relatively reliable way.
Seems simple, doesn't it?
It's not — just think of the broad shift to hourly pay that would have to occur and the administrative hurdles therein, to say nothing of the amount of war-gaming the new system carriers of all shapes and sizes employing drivers would have to go through in order to determine what a going hourly rate would be. Many, however, believe that moving to a time-based system of pay would be ultimately beneficial for the entire industry. Even if it might be expected to raise the costs of virtually everything for all U.S. citizens, it'd put upward pressure on rates for carriers, including for independent owner-operators and leased owner-operator pay.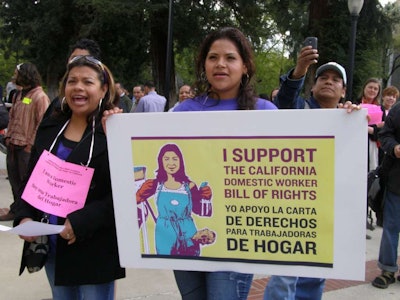 Drivers like owner-operator Joe Ammons aren't the only folks out there who see the FLSA exemption as having run its course. Workers in other industries, too, are up in arms about their own exemption from the possibility of overtime pay (find a fairly representative list of exemptions in this post). California domestic workers — in the same class of exemption as drivers under the FLSA (with no right to overtime) — have recently gotten behind a state bill that would legislate overtime benefits for them. See this story about a "Domestic Worker's Bill of Rights" passing the California Senate's Labor Committee last month (the California governor vetoed a similar measure last year). In turn, Hawaii on July 1 became the second state, following New York, to offer in-house domestics wage protections under state law, which underscores a state-by-state approach to the issue by domestic advocates.
"I know several independent owner-operators and I honestly feel independent owners should be exempt from logs." –reader Jason Simon, on Overdrive's Facebook page
One of the reasons I'm thinking about this today is that reader Jason Simon wrote in to our Facebook page today echoing Joe Ammons. For company drivers, he feels overtime pay should be part of the mix in this day and age, particularly in more local and/or short-regional operations that are paid hourly.
Where do you stand?
Here's what else he had to say, about independent owner-operators: "I know several independent owner-operators and I honestly feel independent owners should be exempt from logs. Yeah, I know that's the whole 'outlaw' culture and there are people completely against it."
He sees it differently: "They have their own authority, business, insurance and equity [and they're the pilots of the rig]. That's a lot more to lose than any joe blow like myself who just wants to take home a paycheck and see our families at the end of the week.
"Some laws," he added, "just seem like a bully system." Don't get him started on the mandated 30-minute break. . . . Speaking of which, how's this for clarity on what activities can constitute a break from FMCSA?
Pork rinds and cold hard cash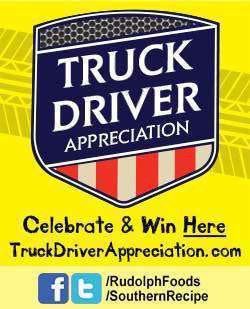 $1,500 for a few words about what it means to be a truck driver? That's the potential outcome for any of you who participate in Rudolph Foods' warm-up to September Driver Appreciation week events this year, as last, when the company held a surreal video competition that involved pork rinds, adhesive tape and (in a winner's case) bagpipes.
This year, the competition is under way Monday next week, beginning the 15th and running through Sept. 1. The company is asking via its Facebook page as well as its website for truck drivers to take part in the contest by "explaining in 1-2 sentences what being a truck driver means to them." On September 1, a "panel of experts will choose the top 12 submissions," the company says, "and during the week-long [Driver Appreciation event] consumers will be asked to vote for the best answer. Voting will take place from September 15-21, 2013 on both the Rudolph Foods and Southern Recipe Facebook pages and Rudolph Foods' website."
Whoever takes the most votes wins. Get your creative hats on, drivers…