Make a truck driver DOT secretary!
In the wake of President Barack Obama's nomination of Charlotte Mayor Anthony Foxx to replace Ray Lahood as U.S. Department of Transportation Secretary, Trans Products Trans Service Regulatory Manager Richard Wilson sent along this "thought of the day," as he called it: "Obamacare is 906 pages with a total of 2,400 or so pages explaining it, and the entire American population, including lawyers, commentators at Fox News and elsewhere, can't figure it out, have no clue really what, when, where it is all about. But 49 CFR is 6,124 pages and every single truck driver is not only supposed to know it, understand it, and obey it — and now is accountable for it in so many ways!… Truck drivers have got to be the smartest people in the world. Maybe we ought to be running the DOT, not a Mayor from Charlotte!"
Petition to repeal fair-labor exemption for trucking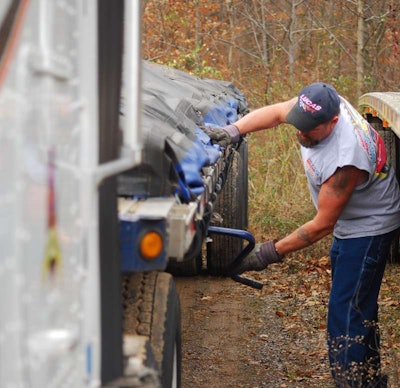 Washington State-based owner-operator Joe Ammons last summer wrote in to Overdrive with a call for assistance from trucking-industry participants in getting a petition started to fix what he and others see as a systemic problem that has been holding down driver pay for going on a century. Namely, the interstate trucking exemption from certain provisions of the Fair Labor Standards Act, which specifies the 40-hour workweek as well as the 8-hour day and associated regulations. As we wrote accompanying his letter, "It is time, Ammons says, for the industry and its drivers to make an exchange — the chance of time and a half and coming in line with much of the mainstream U.S. workforce on hours in exchange for industrywide EOBRs: 'I feel it is time to offer up the exchange and make things equal,' he says. 'Let the government, the industry and the shopping public know exactly what all this regulation is costing them and us. Maybe as an owner-operator this won't affect me right away, but it will have an eventual trickle-down in detention time, rates, and lifestyle.'"
Almost a year later, it looks like he's gotten the help he was looking for. He wrote today to announce that his petition was live:
I've started the petition "U.S. Secretary of Transportation: Disallow FLSA exemption for trucking upon order requiring EOBRs" and need your help to get it off the ground.
Here's why it's important:
The FLSA exemption for trucking, exempting interstate truck drivers from overtime wages, is as old as the driver daily records (logbook) regulations that have been rewritten in the last few years.
The exemption was a political move to appease big-business trucking, as they used the claim that when trucks are out on a trip they cannot track a driver's work and break times to substantiate any kind of hourly pay for non- driving times or track their driving hours in excess of the basic 40-hour workweek.
…With the requirement for electronic onboard recorders that will track all on-duty hours [the arguments no longer stand].
Inasmuch as the exemption was and is at the discretion of the Secretary of Transportation, we hereby petition the Secretary to withdraw that exemption immediately upon the effective date of any rule mandating the installation and use of onboard recording devices and/or electronic driver records.
Agreed? You can sign Ammons' petition here.
And find more on this issue in these stories:
The forces at work on detention pay
The safety argument for increased pay
Reader: Repeal FLSA trucking exemption
Independent thinking