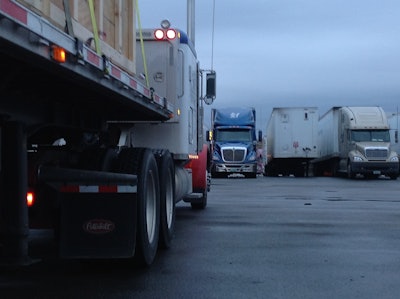 On the final day of this week's full Motor Carrier Safety Advisory Committee meeting in Alexandria, Va., the committee prioritized a list of 38 different potential action items for FMCSA to consider approaching Congress with for inclusion in the next surface transportation reauthorization.
The items receiving majority votes are discussed below, and following are others that achieved up to eight votes. For more on the broad discussion from Day 1 of the meeting, see this story.
1. Exploration of requirements for broader, tougher standards for New Entrants. (15 votes) Among other ideas expressed by various MCSAC members, Owner-Operator Independent Drivers Association Executive Vice President Todd Spencer expressed bewilderment over the current New Entrant safety audit program, which for most freight carriers today includes a safety audit within the first 18 months of a carrier being granted new operating authority. More focused, up-front vetting that happens for passenger carriers and household goods New Entrants, Spencer said, potentially "could serve as something of a framework" for boosting vetting of Entrants in future.
Spencer later added that OOIDA believes the New Entrant audit, "whether done at 18 months or 12, is simply a waste of time and resources for all concerned. Whatever scrutiny FMCSA deems necessary to give a thumbs-up to a New Entrant should take place before the first mile is run."
Other ideas explored in the meeting included an exploration of financial solvency, boosted insurance requirements, a rise in registration fees and more.
2. Extending the "chain of responsibility" for coercing drivers or creating conditions that force drivers to operate unsafely to shippers and other entities along the supply chain. (15 votes) Chief in MCSAC members' consideration here were pressures on drivers resulting from excess detention times. "Shippers have been able to stay distanced from a lot of this," noted Clark Freight Lines Operations Manager Danny Schnautz, referring to motor carrier safety issues. "If they could be brought into it, that's a driving force behind the entire industry."
Shippers "need to be held responsible for holding the truck up," Schnautz added. "FMCSA needs to pursue what they can do to ensure that when a truck is held up, the company and/or the driver are paid." Today, he said, in many instances it's "cheaper to hold trucks up rather than pay for another forklift." And while the issue of authority is somewhat "sticky," he said, "it's surmountable if we want it to be."
Said MCSAC Chairman Stephen Owings, "That whole concept should be expanded to require that the whole 'chain of responsibility' is on the hook financially and every other way for doing anything to encourage dangerous behavior by the truck drivers."
3. FMCSA should become an advocate for intelligent transportation infrastructure and technologies to improve safety. (13 votes) Schneider Safety Senior Vice President Don Osterberg urged the agency to get behind shepherding technologies like smart stop lights — which might adjust yellow lengths depending on the profile of the vehicle approaching — among others. "Who is identifying paths to implementation?" he asked. "It's not in scope for anyone" outside of manufacturers of such technology, though the benefits could prove to be a boon to safety.
4. Reform driver compensation by establishing a "safe pay rate" as well as repealing the FLSA exemption from overtime pay currently standing over interstate truckers. (12 votes) Different constituencies were united under this recommendation, from smaller carriers and owner-operator reps to union officials and "truck safety" advocates. "The original thinking" behind the Fair Labor Standards Act exemption from overtime pay, noted OOIDA's Spencer, was that the Departments of Labor and Transportation "didn't want workers with incentives to work more overtime hours. Today, however, technologies are all about maximizing productivity. The 40-hour work week went away for drivers a long time ago. The technology that many [larger carriers] are not bashful about using as productivity enhancers" also encourage "inefficiency and waste drivers' time. The broader issue of not placing any value on a driver's time costs trucking billions and society even more."
Finally, Spencer noted, it all also costs a loss of "safe and experienced drivers that no longer want any part of a lifestyle that is based on income that has been stagnant for years and years. Yes it will have to go through Congress and yes it won't be an easy sell, but it's the right thing to do for the future of the driver workforce and for the future of highway safety."
Among others expressing vocal support of the measure were Bruce Hamilton of the Amalgamated Transit Union and Lamont Byrd of the Teamsters, as well as Clark Freight Lines Operations Manager Danny Schnautz. Find more discussion of the issue here.
5. Require FMCSA to pursue rulemaking relative to sleep apnea and commercial drivers' medical certifications. (12 votes) There was little discussion of this issue, formally introduced by Henry Jasny of the Advocates for Highway and Auto Safety. The industry's ad naseum prior discussion of it, as well as some members' intractable positions therein, encouraged little current debate beyond the proposal. Overdrive readers' views on the subject of sleep apnea were explored most recently in this Voices story last year, and for more on the MCSAC's previous talks on sleep apnea, including prior recommendations by the FMCSA's Medical Review Board in collaboration with the MCSAC in 2011-12, read this story.
6. Focus additional resources on ensuring adequate and safe truck parking for drivers. (12 votes) Danny Schnautz: "We need stopgap measures to do something about the parking situation."
OOIDA's Todd Spencer urged regulators to encourage more than just stopgap measures and to focus efforts also long-term "for a problem that has been increasing for the past three decades…. Right now it's just one of those costs of deregulation that have been passed on to society, mostly absorbed by drivers themselves."
7. Update trailer underride guard standards and explore side-underride-guard standards. (9 votes)
8. Require speed governor rulemaking. (9 votes)
9. Require collision avoidance technology rulemaking. (9 votes)
10. In Basic MCSAP enforcement funding program, boost cap from 5 to 10 percent on traffic enforcement activities. (8 votes) Find more discussion of this item via this link.
11. DOT should advocate against any size/weight changes until report to Congress mandated by MAP-21 is finished. (8 votes)
12. Exploring increase in minimum insurance requirements above $750,000. (8 votes)