I ran into Pacific Northwest-based owner-operator Marc Springer, also the sole Class 8 hauler on the Shipping Wars television show, at the Great American Trucking Show and, as we talked a little about what he'd seen at the show, he made note of a few products he'd come across there that he said were new to him and which, as rather small add-ons in a trucking business, could improve the efficiency and earning potential of his operation. Along the way, we determined his top five products on offer around the show floor, some new and some old. Below, find the results, a run through one operator's experience of the show.
1. Pittsburgh Powerbox
If you've been around industry for any length of time, you'll be familiar with this company's offerings — company President Bruce Mallinson writes a Pro Tips Q&A-type column for our Custom Rigs department, and many an operator has found a fuel-mileage/power boost from the company's ECM-tuning equipment. Springer already uses the Powerbox in his 1999 Kenworth W900 and says the company's "created opportunity to make more money saving fuel, time and longevity of the motor." There's also "the enjoyment of driving with more power." With Springer's engine, a Detroit, "if I stay out of the boost and run it with just around 8-10 pounds of boost, I can get around 8 mpg loaded or not, the engine working" easier to do the same thing, working "more efficiently," he says. Find more via this link.
Overdrive's 2012 story on the ECM retune market advises to "Proceed with caution."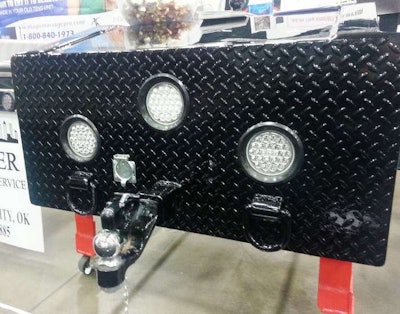 2. The M2 multihitch from Okla.-based M2 fabrication and repair "allows my truck to carry a gooseneck trailer, a trailer with a pintle hitch bumper pull and pintle ball hitch, too," says Springer. "I can hook to a boat trailer, an RV, any little thing." The multihitch has been around about two years, he says, with the company testing it throughout. Springer says he's had the idea himself and has tried to create it on his own, but his efforts have been "not anything near as good as this. It also works as a glider to getting underneath an RGN…. It could certainly pay for itself with a couple of tugs" you otherwise couldn't get utilizing just your tractor's fifth wheel. Weight: 320 lbs. Find more via this page.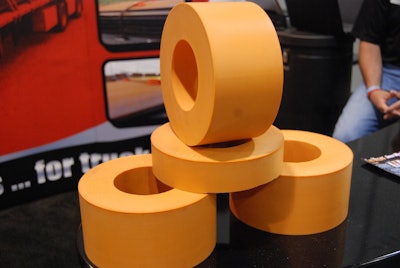 3. We featured the Cargo Cookie when former small fleet flatbed owner-operator Steve Burroughs introduced the securement aid at the Great West Truck Show. My colleague James Jaillet described use of the "doughnut-shaped device" this way: "placed under straps to increase load security and prevent damage to loads. The device allows drivers to tighten straps or chains without using pallets, car tires, wood or other makeshift devices." Springer describes the "round load spacers" as "a great idea. I haul around lumber all the time" for the same purposes, and "it's heavy. I need dunnage and ramps and i worry about it all coming off the truck. This is a simple, light and economical way to do the same thing, and it's going to save me some money. I won't wear my straps out as fast, for one." He added: "One strap snaps on a sharp edge and you lose the load — it could take your company out." Storage options for them are convenient and easy — "run a couple bungees through it or put a strap through thirty of them…. The wood I carry that it could replace would save hundreds of pounds." Find more about the Cargo Cookie here.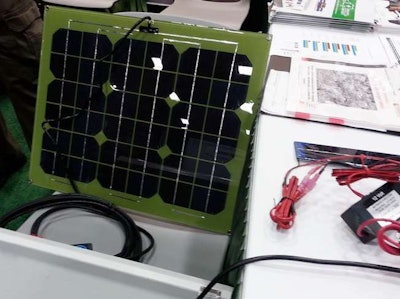 4. Healthy Battery solar panels
"What a great idea," says Springer. "I'm going to equate it to a real-life situation. I've got a pony motor running the hydraulics on my Landoll. They're only charging when the pony motor is running. Guess what, if you don't run it, the battery drains. And guess when you'll find that out? When you need to run it to pick up a load." By installing one of Healthy Battery's small solar panels and connecting it to the pony-motor battery, "it now can be constantly charged at no expense to me," Springer adds. I'll run my truck batteries on it as well."
Healthy Battery has several options for truckers, including "a strip that fits below the windshield — a square 1.5 ft by 1.5 ft. option, another bigger one, approximately 2-by-2, that could probably fit somewhere else," Springer says. He estimates the smaller squares cost in the $140-$170 range and says they can be attached with "double-sided tapes or screws or rivets — they look indestructible." They come with 17 feet of wire and a module with "two hot leads that connect to the batteries — anybody could install it" to "as much as double the life expectancy of your batteries," he adds. Find more at the company's website.
5. Counteract Balancing's balancing beads for commercial truck tires have been around for a long time, as have those of other manufacturers in the balancing game, such as Centramatic. Springer's planning to utilize Counteract beads to help chip away at his tire cost-per-mile, which he determined by recent analysis at a full 5 cents a mile. "If this can create less heat and wear, it could eventually make me money. I know it's minor, but over the long-term it adds up."
The beads "maintain their position by static," Springer says. They "go right to the same location every time" you roll.