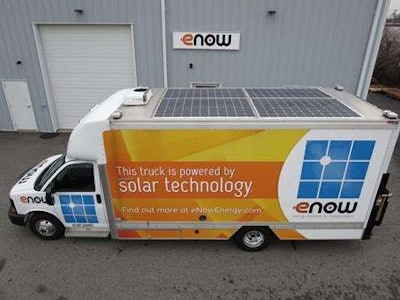 Dometic Group, a global provider of comfort products for the truck, RV, motor home, automotive and marine markets, announced its new solar power systems for heavy-duty truckers at the Mid-America Trucking Show (MATS), March 31-April 2 in Louisville, Ky.
The company exhibit, at Dometic's outdoor booth #92140, features its eNow partner, a market leader in designing, developing and manufacturing solar-based power systems for the trucking industry.
The exhibit showcases eNow's solar-powered battery-charging and power management solutions, which harness the power of the sun to charge auxiliary truck batteries, helping eliminate costly idling and associated fuel costs, equipment maintenance and CO2 emissions.
"Dometic is constantly looking for new ways to be more environmentally friendly and we are impressed with eNow's innovative use of a sustainable, green solution to recharge batteries that power our comfort appliances inside trucks, such as auxiliary air conditioners, refrigerators, portable refrigerator/freezers and safes, " said Mark Minatel, Senior Vice President at Dometic. "Utilizing cutting-edge solar technology, we are able to capture, store and distribute power to various truck/trailer functions, such as the Dometic Blizzard Turbo auxiliary air conditioner, the Dometic CRX 3-in-1 refrigerator and other appliances while providing potential cost savings for owners and reducing emissions related to run time."
Harvesting sunlight to charge batteries improves battery performance, the company says. This puts less stress on the alternator at idle and over-the-road, driving service costs down. In addition, the eNow system can keep a truck's (crank) battery fully charged, which can reduce the need for emergency jump starts.