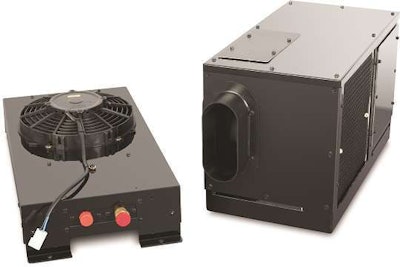 Mobile-refrigerating technology manufacturer the Dometic Group, operating globally, launched an update to its long-established battery-operated auxiliary air conditioner for truck sleepers at the Mid-America Trucking Show. The Dometic Split-System Blizzard 134a moves the split unit away from increasingly difficult-to-find R22 refrigerant into the newer 134a standard.

In the process, the company made several durability and efficiency improvements to both the fan and main compressor units in its 7,000- and 10,00o-BTU-rated units, said company rep Charlie Barefoot. Updates ranged from small design changes to accommodate the new refrigerant to durability and accessibility enhancements made with the end user in mind.
The battery-powered split system allows the noise of the condenser unit to remain outside while the quieter evaporator unit blows cool air to the cab's interior. Made in the USA, the unit is SmartWay- and EPA-certified.
Operation will require an inverter, potentially one of several models Dometic has tested for the correct rating — 1,800 watts for the 7,000-BTU model, 2,000 for the 10,000-BTU model. And, says Barefoot, it's key to "make sure the voltage-cut-out is right." Some models tend to interpret the power draw as an error and shut the system down. "We select and test our inverters," adds Barefoot. "Most are inverter-chargers" so the driver has the benefit of more battery-charging capacity, key to making the system work to maximum effect.
With a small footprint relative to cooling capacity, the Split-System BliZZard also requires minimal installation space — flexible refrigerant line sets need only small holes in the cab floor or panels. Units and line sets are pre-charged, and refrigerant line connections made with no-leak quick-connect fittings, allowing for easier and faster installation. Barefoot and others at the Dometic booth at the Mid-America Trucking Show estimated a few hours for trained shop personnel to install the unit — "an owner-operator could probably do it in a day himself," said Barefoot.
It's also available spec'd with an electric heater, though Barefoot cautions that it's a large power draw when heating. More often, users spec diesel-fired bunk heaters to parallel the system.
For an owner-operator or fleet purchasing the Blizzard in the aftermarket, Dometic estimates a $1 per BTU average, generally (and it can be spec'd from most OEMs). With an upgraded alternator, wiring from the alternator, an additional bank of batteries optimized for such applications and the split system itself, the owner-operator might expect to spend $8,000-$9,000 installed for the 7,000-BTU unit, $10,000 for the 10,000-BTU unit.