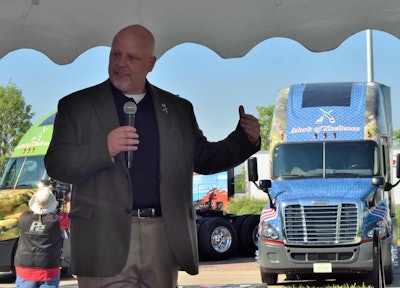 Regular Overdrive readers may well recall the image above from our coverage of U.S. Xpress' event in Chattanooga, Tenn., ahead of the July 4 weekend showcasing a new military-hiring initiative. The black block on the hood of the tractor company Senior Vice President Gerry Mead is gesturing to is one of the eNow company's solar panels, installed to assist in charging the auxiliary battery bank that powers the Dometic auxiliary power unit in these tractor.
eNow's Jeff Flath says the company's five years' worth of design and testing work with partners among the larger fleets has proven out the design of their system. For owner-operators who've invested in auxiliary-battery-powered systems for climate control when stopped, the eNow solar panel system is ready for prime-time on their trucks. "Where somebody may already have a battery-based auxiliary HVAC system," he says, "we're charging those auxiliary batteries in addition to charging them from the alternator."
For such operators, the investment in a roof panel — a 40-inch by 72-inch, lightweight and flexible piece, Flath notes – costs around $2,500 installed. Payback calculations the eNow company has done based on 300 days of annual use at $2/gallon diesel show returns on investment with an auxiliary climate control system in place at around a year. At the higher diesel prices we've seen in recent history, that time is less.
At once, Flath is quick to note, if the operator doesn't have a battery-based APU system already installed, they'll need to purchase that to garner the full benefit (costs for such systems are substantial, up to $10,000).
However, panels installed on van trailers have application, too, notes Flath. "The biggest function on the trailer is providing power to liftgates," in addition to providing power back to the tractor.
The eNow company "formed in May of 2011," Flath says, with a key group of people with experience in solar. "One of our technical people had worked in the space industry his entire career," including involvement in power systems for the lunar lander, the Hubbell space telescope and the International Space Station. Another had "developed 'ground-based' solar systems," and Flath himself had worked on a single-ply solar roofing membrane, military tent applications and transportation, the last of which eNow formed to serve specifically.
"We felt there was a good payback from solar to displace diesel idling," he adds.
And "even when the truck is moving," he says, "we can displace the power that the alternator would generate," which increases fuel mileage. "When the truck is stationary," of course, eNow can supply power for HVAC systems, refrigeration, and etc."
The company's rolled out sales and service infrastructure via various dealers, Flath says, and will be "getting it out in the truck stops in near future."
The company's sales group is available for fitting the system to owner-operators' specific needs, too. Find more about them via the company website.