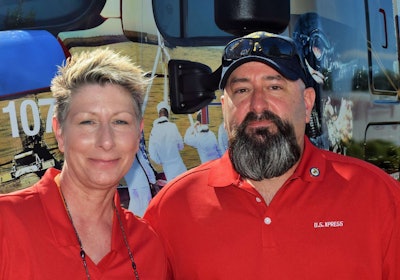 Here's wishing a healthy and happy July 4 to all of you, whether on the road or back at the house. That's Pete and Lori Ingram above — the team-driving couple's currently based in Virginia but is making a move to Florida fairly soon, after having started with U.S. Xpress earlier this year. Pete's a recently-retired veteran of the U.S. Navy, and he and Lori were selected from more than 100 applicants to receive the Navy-themed 2017 Freightliner Cascadia Evolution that is one of six specially-design Cascadias U.S. Xpress put into service this week, dedicating each to a U.S. military veteran currently within the company's driver ranks.
Pete and Lori looked forward to running in the rig, pictured below, particularly now that they'd be setting up a proper radio in-cab. The couple was so new to trucking they hadn't had an opportunity to set one up in the prior truck as yet.
"I'm going to really need it in this truck," Pete says. "It's going to be a blast talking about [the truck] going down the road."
It's sure to catch some eyes, for sure, and serve as a nice tribute to what Pete believes is the most routinely important branch of the service.
"The Navy is the world's 911," he says. When trouble calls, "we always have somebody there and ready to respond."
I imagine some of his fellow drivers might well argue with that "most important" designation, bragging rights being what they are. Nonetheless, I'll give credit where it's due — find further information about the other trucks in the U.S. Xpress effort, and their drivers, below.