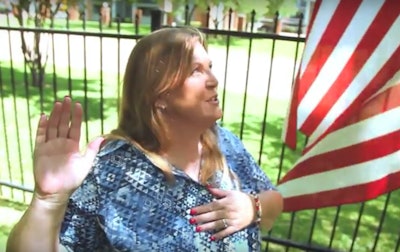 Originally from Australia, owner-operator and singer/songwriter Jennie Simpson penned and recorded the "I Became an American" track this year after "wanting to do something like this for quite a while," she says.
It's a fitting one to share this July 4 weekend, about what it means to her to be a citizen of the United States after making her working life here as an owner-operator. Hear it in the video above (put together by videographer Cameron J. Smith), and at the head of our Music to Truck By playlist at bottom. It's available for download via CDBaby, iTunes, and other online music retailers.
Simpson came to America in 1999 and started driving a truck in the year 2000. "I came to Landstar in 2002," she says. Not wanting to give up her Australian passport, she stalled for years on completing her U.S. citizenship, given her elderly mother's continued residence on the other side of the world. Then: "Once I heard that they would not make me surrender my Australian passport," she jumped to become a U.S. citizen.
The process culminated "on the 30th of August in 2010," she says.
Fast-forward to reaching million-mile status with Landstar in November 2013, then achieving Landstar's "Roadstar" honor in July 2014 — that same year, Simpson was honored in the Overdrive/Red Eye Radio Trucker Talent Search, in which she was a finalist. It was there that she met fellow owner-operator and songwriter Keith Sampson, eventual winner of that year's talent competition.
After working on the words to "I Became an American" for "quite a long time," Simpson says, "I thought, 'maybe Keith could come up with a melody.' Basically, he got his guitar out and did a little scratch version" that he shared with her a few months back now. Simpson "took that little audio clip on the phone" into Patrick McGuire Recording in Arlington, Texas, where she and McGuire worked to engineer the track you hear today.
"It went from one little scratch on a text message to something phenomenal," Simpson says.
I'd have to say I agree. And you can look forward to more in this vein from Simpson later this year. She's been writing more and hopes to have a new record finished by the end of the year.