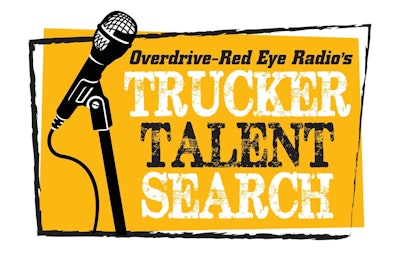 The AxleOutPro company has stepped up to the plate to sweeten the pot for the eventual Overdrive/Red Eye Radio Trucker Talent Search winner. The final round in the competition takes places a week from today on Friday, August 28, at 3:30 p.m. at the Great American Trucking Show, pitting Nate Moran, Don Whatley and Paul Marhoefer against each other with a series of performances emcee'd by driver-songwriter Tony Justice and judged to determine the winner.
The team at the AxleOutPro service (geared particularly toward determining the best trailer-axle position for maximum fuel-efficiency), available via the company website in a 30-day free trial, will offer the winner of the competition an eight-hour recording session for one original song and interview at the historic January Sound in Dallas. The ultimate goal: producing a high-quality demo and interview/music video to go along with it, the company picking up all studio costs excepting transportation to and from and any studio musicians beyond the pro production engineer.
The new prize proceeds from recent work the company did on a solo session with 2014 Trucker Talent Search winner Keith Sampson. The company invited him to do much the same with a song regular readers will be familiar with from my prior post about his own low-budget, in-the-sleeper vid of it. The song tells a true story, Keith says, about Sampson's parents. As I wrote previously, it's a moving story about himself as a young man and those who came before him — a father who left when he was young and a mother who knew how to be the dad when she needed to be.
Since the video aired recently, Sampson reports he's received numerous stories from friends and strangers alike "about how this song has touched them. It's very humbling to know that I've written a song that has impacted so many."
It's a wonderful piece — take a listen/look below.
[youtube r2OsAj1dsHI nolink]