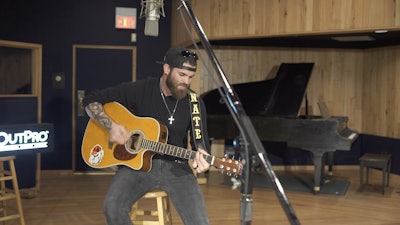 The second video enabled by the AxleOutPro company with one of Overdrive's Trucker Talent Search participants, 2015 winner Nate Moran, is now out and available.
The 2015 contest champion (pictured above), owner-operator and singer-songwriter Nate Moran, got down to the historic January Sound studio in Dallas in early November for the recording and video shoot after AxleOutPro sponsored the special prize for this year's winner. The professionally produced music video for Moran's own "Crazy" showcases studio scenes and a story line of "my kind of crazy" love.
Says AxleOutPro's Jeremy Moore of the shoot, conducted in-studio, around Dallas' Deep Ellum neighborhood and in a Dallas nightclub, "We all had a lot of fun" throughout the production.
Take a run through the brief talk with the 2015 Trucker Talent Search winner and the final product below, and share your own music throughout the next months for a chance to compete at the Great American Trucking Show in the Overdrive-Red Eye Radio Trucker Talent Search next year at this link.
You can view the AxleOutPro-sponsored video of the 2014 TTS winner, Keith Sampson, as well as more details about the prize's genesis, in the following story: