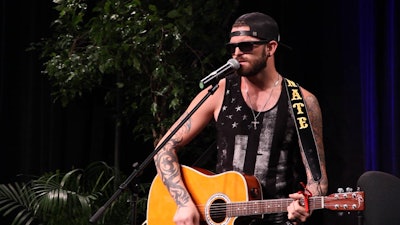 Nate Moran's father died unexpectedly during a hunting trip they were on together when Nate was a boy. Soon afterward, Moran took up the guitar, learning to play by ear and eventually writing his own music.
It was hardly the last time music would help him push through difficult periods. This summer, though, Moran's music marked a high point in the life of the 25-year-old company driver, when he won the Overdrive-Red Eye Radio's Trucker Talent Search competition at the Great American Trucking Show in Dallas.
"The one person I can relate to in how I write is Luke Bryan because of all the tragedies he's had in his life," says Moran. "He lost his brother and his sister, and he's continued to keep at it and write good music and put out music that people can relate to."
Moran experienced another tragedy in 2009 when one of his sister's best friends, with whom Nate was also close, died from an overdose.
"She was a big inspiration to me, and it taught me a lot about life," he says. Her name, Kerri, is tattooed on his arm.
Troubles continued this year as Moran and his wife, Jessica, experienced financial troubles and a miscarriage.
The couple met at a Florida Volkswagen dealership in 2009. Jessica was a cashier, and Nate was working in the shop.
"I was going through a difficult divorce at that time, and Nate was there to share stories with me and make me laugh every day at work," Jessica says. "He would come over to my apartment and spend time with me and my daughter, wanting to be there for us since all of my family and friends were back in California. I didn't realize our friendship would soon turn out to be our love story."
Jessica and her young daughter moved back to California in 2010, but she and Nate stayed in touch. They took turns flying to see each other and to meet each other's family.
"On one of our trips, he surprised me with rose petals and a ring, but being the stubborn woman I am, I accepted as a promise of commitment in our relationship more than a [marriage] proposal," she says. "Being the patient man, he kept waiting for me to come around.
"Then, to our surprise, after that trip, I was pregnant. That was right before he shipped off to the Army Reserves. As soon as he was located in California after boot camp, he asked to marry me and be an official family, and, of course, I accepted this time."
The couple married this year on April 4, choosing that date as a remembrance of Moran's father's birthday.
Moran enrolled in trucking school when he was 22, but he still served in the California Army National Guard till was 24.
For about a year and a half, Moran hauled airplane parts on the West Coast for Smokey Point Distributing. This summer, he switched to driving for his uncle's company, Bryant Freight, when his uncle had health problems.
Now he's back with Smokey Point. "I just love seeing different places, new places that you've never been before," he says. "I go through Canada and all the border states. It's beautiful."
Though Moran's family lives in Pomona, Calif., he wants to return to where he grew up.
"We plan on going back East, whether that's Florida or Georgia," he says. "I want to move my family up there by the middle of next year."
When that happens, he also wants to release an album. He's been recording a little at a time, with that goal in mind.
Jessica says she always will support her husband's musical aspirations.
"Reflecting over the past six years, we have transitioned through many different life challenges, especially choosing trucking as his career," she says. "But through every journey, music is his true passion that he will never give up on."
Original song wins a heart, then a contest
To enter Overdrive-Red Eye Radio's Trucker Talent Search, Nate Moran submitted a video of himself covering Michael Ray's popular country song, "Kiss You in the Morning." He became an audience favorite and was voted one of three finalists, along with Don Whatley and Paul Marhoefer.
But when Moran performed in the contest finals at The Great American Trucking Show, he chose "Middle of the Moonlight," a song he wrote and sang for his wife, Jessica, at their April wedding. She joined him at the Dallas playoff, sitting in the front row, tapping her leg to the beat. Later she recalled how his music helped win her heart.
"I realized I was falling in love with him when he would write me a song and play his guitar for me, and I was like, 'Oh man, he's got me!' "
In Dallas, he also got the judges: Lindsay Lawler, a country singer who promotes the Highway Angel trucker recognition program; Keith Sampson, last year's Trucker Talent Search winner; Brad James, a 2014 Trucker Talent Search finalist; and Mike Ryan, a Class 8 truck racer and stunt driver.
Moran won $1,000 in cash, a crystal trophy and a Justin Boots certificate provided by Red Eye Radio. But perhaps the most valuable prize was provided by fuel efficiency app provider AxleOutPro: an eight-hour recording session for one song at the historic January Sound studio in Dallas, and production of a music video based on his original song, "Crazy."
Moran plans to record the video in Dallas "on a country road where there's a farm, and we may get a couple of shots at a marina in front of a lake."
From 'Middle of the Moonlight'
You got my head spinnin', heart beatin' faster than adrenaline
I get lost in the way you move when I see you swayin',
Aw, girl yeah break it down low, go ahead yeah you're stealin' the show,
Yeah girl you're lookin' so fine in the back of my truck bed in the middle of the moonlight.
Oh baby after all this time I can't believe you're still mine,
Five years, two kids in, you're my wife, you're my best friend
Girl I know, we should have took it slow, but I wouldn't trade anything, yeah girl, you still drive me wild, baby, yeah
Drivin' me wild, drivin' me wild yeah.
Follow Nate Moran online:
Facebook.com/NateMoranMusic
Twitter: @NateMoranMusic
Download his music via iTunes and Amazon.