Trucker Nate Moran is no stranger to writing songs, performing and recording — check out his two recorded tracks "Middle of the Moonlight" and "Honey Drop" for clear evidence of that. He's made waves online since he made them available on iTunes and elsewhere. At the same time, he chose another kind of personal touch with his video entry (above) into the Trucker Talent Search competition.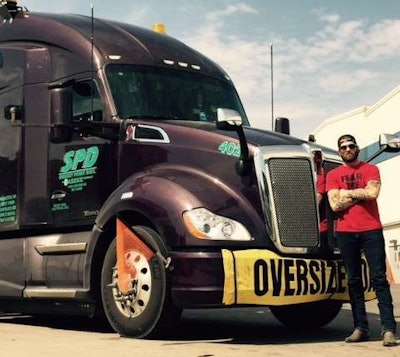 The Michael Ray song he sang for Overdrive readers also happens to be what he sang to his wife at their wedding in April earlier this year. (Find Moran's music Facebook page at this link.)
Personal events drove his turn to music from the get-go, too. His father unexpectedly passed when he was a boy, and music became his way of coping. "Nate picked up a guitar 'to keep my mind right,'" he says in this profile on the website of the Daseke company. (Moran drove for affiliated Smokey Point Distributing until recently, when he switched to driving for a family member's company, Bryant Freight.)
He talks about this and more with Eric Harley of Red Eye Radio in the podcast you can hear below and at the head of Overdrive's "Music to truck by" SoundCloud playlist. Moran, with fellow Trucker Talent Search finalists Paul Marhoefer and Don Whatley, will perform in the theater at the Great American Trucking Show August 28 at 3:30 p.m. to determine the final winner in the competition.
Podcast: Play in new window | Download