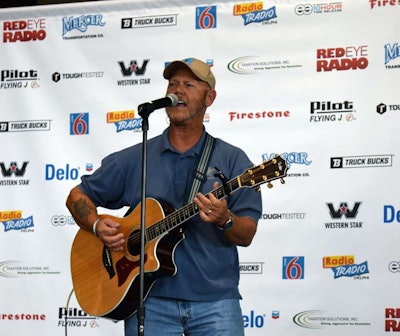 Landstar-leased owner-operator Keith Sampson (pictured) posted a fresh tune to Facebook and his YouTube channel just yesterday that, well, really caught this writer's ear.
It tells a moving story Keith says is a true one, about himself as a young man and those who came before him — an father who left when he was young and a mother who knew how to be the dad when she needed to be.
Definitely a recommended listen now or down the line. Video embed is below…
[youtube A6IzOjiXubk nolink]
And speaking of fathers, here's wishing all of you in the audience a great weekend — from one among you. I know I rarely relay much in the way of personal anecdotes in this space, but the past seven years of fatherhood have been a learning experience, to say the least. What they've also been is an opportunity to grow in the sense that I'm able to better appreciate just what my own dad in my original hometown in South Carolina — as well as my father-in-law in more recent times, who lives closer to me these days in Tennessee — have meant to, as Keith puts it, "who I am."
Since I know both of them, to one degree or another, check into this space from time to time, here's a big shout-out to Mike Dills and Stephen Felts! Keep being who you are, and know there's a guy out here who appreciates it all in a big way.
Happy Father's Day to the rest of you out there. Enjoy the road this weekend if you're on it…