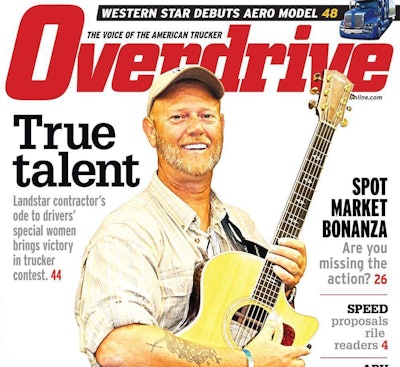 "Sometimes you hear all the CB chatter out here on the highway: 'Well, my wife's got to take my kid to the doctor tomorrow, she's going to mow the lawn,' " says Keith Sampson. "All the stuff you hear the drivers talking about – what their wife or girlfriend has to do today – that's where the idea came from."
Sampson's idea grew into a song. This wasn't unusual for the Landstar Ranger owner-operator. He's written dozens of songs. However, "The Woman Behind the Man Behind the Wheel" became special when he performed it at the Great American Trucking Show before judges who named him winner of Overdrive-Red Eye Radio's Trucker Talent Search.
Sampson was one of 30-plus singing truckers to enter the competition. After online voting, he and finalists Jennie Simpson and Brad James performed live at the Dallas show in August.
[youtube SH_1vpk9jpw nolink]
One judge, Red Eye Radio host Eric Harley, said Sampson delivered a "powerful" performance. "He carried the confidence and talent of a pro, and it was clear that he enjoys singing," Harley says, and the song choice "was a perfect way to tie his love of trucking to his love of singing. Impressive!"
The experience "boosts my confidence level 110 percent," says Sampson, who drives team with his wife, Vickie. "I've never entered a competition and never saw myself entering one because I'm a shy kind, and I would always just play for a handful of people."
One person who's heard his music is Lacey Crosson-Cornelius, who runs a Landstar agency in Gadsden, Ala., and met the Sampsons by phone about five years ago while they were handling a load.
Vickie mentioned to her that she was buying Keith a nice guitar for his birthday. Crosson-Cornelius expressed interest in his music, so Sampson sent a recording.
Crosson-Cornelius immediately became a fan. She even added the recording of "The Woman Behind the Man Behind the Wheel" to the agency's hold music playlist.
'HOOKED EVER SINCE'
Keith Sampson's first real experience with music was as a child, listening to his mother play gospel songs by ear on a grand piano. He'd sit down and try to do the same, playing by ear.
When Sampson was 8, his uncle gave him a guitar and taught him three basic chords. "I've been hooked ever since," he says.
He learned to play radio songs by ear. "I didn't know the chords of the song, but I could hear the sounds on the guitar," he says. Sampson never learned to read music or guitar tabs, but was writing songs by the time he was a teenager.
Drawing inspiration from country, gospel, bluegrass and Southern rock, he now owns copyrights on about 30 of his songs, which he says he hopes to record one day in a professional studio.
Though he has a studio in his home, it's difficult to record because he's a one-man show. He does vocals and plays guitar, keyboard and banjo. "It's a challenge to record music by yourself," he says.
Even with his ventures into songwriting, Sampson still covers other songs. He played Blake Shelton's "Boys 'Round Here" for his video entry in the Trucker Talent Search.
"I kind of like mixing some of the older stuff with some of the new stuff and coming up with different sounds," he says. "I try to make it my own."
When Sampson performed the song at GATS, he dedicated it to the women who support their truck-driving husbands, and specifically to Vickie.
"Even though she's out here on the road with me and we have this big truck, she does her share of driving, she cooks, she cleans, she does all the paperwork, and she fulfills that same role that the women at home do," he says.
Vickie says she's her husband's biggest supporter, while at the same time being his biggest critic. She writes a lot of poetry and gives advice on his lyrics. But most of all, she encourages him to continue making music.
"We've always been a team operation, and I've wanted to help him make his dreams come true," she says.
Vickie's been doing that for more than 20 years, from the start of her husband's trucking career.
Sampson grew up in Charleston, W.Va. At age 22, working in a warehouse, his asthma gave him trouble during the winter, so his employer let him switch to loading and driving a company truck. When the company closed its West Virginia branch and moved back to its Ohio office seven months later, Sampson moved to Florida to enroll in driving school and then drive over the road.
There he met Vickie, who was an office manager at a credit reporting agency.
"She rode with me on several trips and liked the feel of trucking," Sampson recalls. Soon after, they married, and in 1991 moved back to his home state, where he taught her to drive and they began driving team.
Since then, they've hauled chemicals in West Virginia and owned a seven-truck fleet during a five-year stint in Missouri. Now, based in Rhome, Texas, they use their 2014 Volvo with a 156-inch custom sleeper to drive OTR for Landstar Ranger.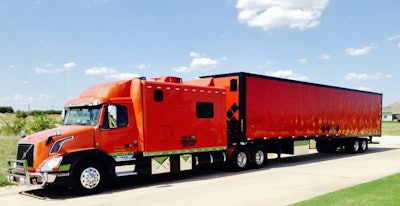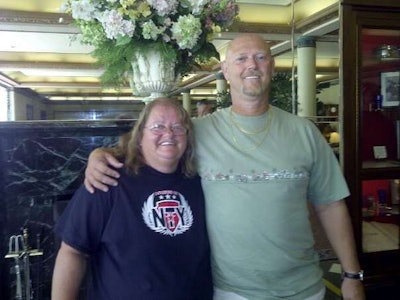 "With the freight that we haul, we have a lot of downtime, so we decided to get something that has all the comforts of home," Sampson says.
The additional weight doesn't hurt their operation because their freight is lightweight, and they save costs on hotel rooms and restaurants, he says. They average about 6.8 miles per gallon, running 62 to 63 miles per hour.
Crosson-Cornelius says the Sampsons go above and beyond on all their hauls.
"They're really good on the shipper and receiver end and dealing with the customers and the other complications that come up," she says. "They do a really good job of keeping up with things going on in our office and marketing themselves, and on a personal level, they're just such good people that they stand out."
If you missed Eric Harley's Red Eye Radio interview with Keith prior to the TTS competition, as well as Overdrive's podcast of the full performances, you can hear them below.