[youtube SH_1vpk9jpw nolink]
You may have seen the video above already — Trucker Talent Search winner Keith Sampson's on the cover this month attendant to a larger story about him we'll be publishing online quite soon. Meantime, though, as I believe I promised at some point in the recent past here, get a load of Keith and his team owner-operator wife, Vickie's, 2014 Volvo: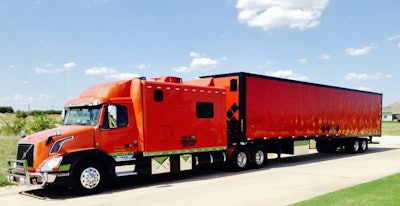 The pair sent me this picture several days after the end of the Great American Trucking Show two months back, where we'd talked about the 53-foot van — it was at that moment in the shop getting a fresh coast of red to match the truck and 156-inch ARI sleeper. Striking color, no doubt — keep an eye out for them on the highway.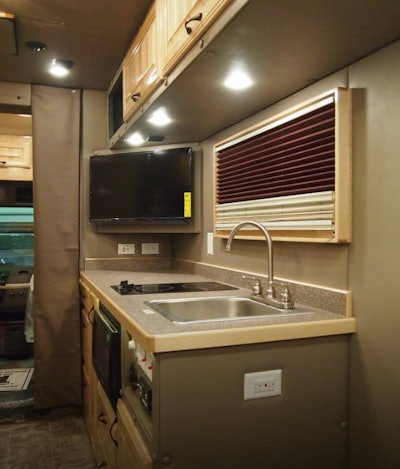 The Sampsons note they ordered the truck via the GATR Truck Center in Des Moines, Iowa, near the beginning of this year, collaborating then with ARI in Northern Indiana to build the sleeper. The "Dark Persimmon Metallic and Black Sable" paint from the factory was matched after the fact on the boxes and fenders. The trailer paint work was done by Keith's Collision in Justin, Texas, to match.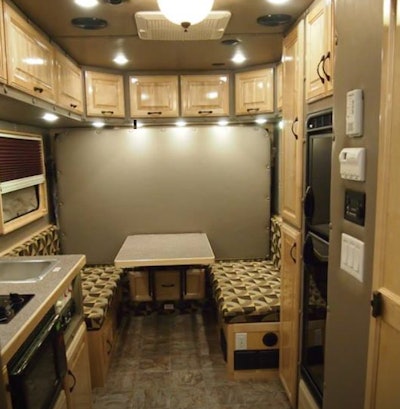 The sleeper has all the amenities of home, they say: shower, toilet, 32-inch flat screen TV/DVD, onboard in-motion-capable satellite with Direct TV, two-burner cook-top stove, microwave convection oven, sink, full dinette that easily folds up against the back wall, "giving us a queen size bed." The shorepower option enables the couple to "drop our trailer and plug in at an RV park, which we do quite often."
The fully automatic transmission along with a preference for light loads helps the unit net an average 6.8 mpg — with the light loads they typically get more than 7 mpg driving 62-65 mph.
Stay tuned for more in future, no doubt. I'm hopeful the pair may get through Nashville at some point under a load. Safe hauling this weekend, everyone!
If you missed Eric Harley's Red Eye Radio interview with Keith prior to the TTS competition, you can hear it below.