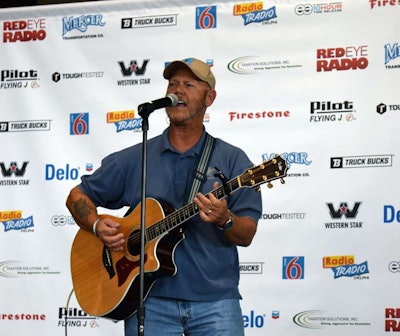 Whether you're at home or running the highways this fine Labor Day, in the podcast here you can take a tour with Overdrive's Todd Dills through performances by Trucker Talent Search emcee Tony Justice, contestants Brad James and Jennie Simpson, and the ultimate winner, Keith Sampson. The inaugural Trucker Talent Search finale was held on the Red Eye Radio stage outside the main entrance to the Great American Trucking Show floor Friday, Aug. 22, as the show was ending for the day.
Podcast: Play in new window | Download
Those interested can also hear podcast interviews with each of the contestant drivers via this linked post.
A podcast featuring an interview with the event emcee, driver/singer-songwriter Tony Justice, with selections of tracks from Justice's late 2013 "Apple Pie Moonshine" record is available at this link.