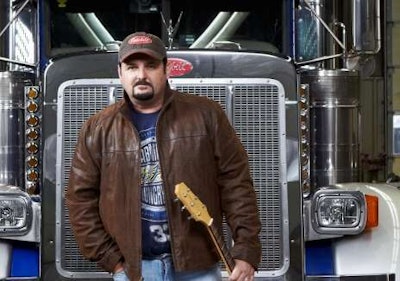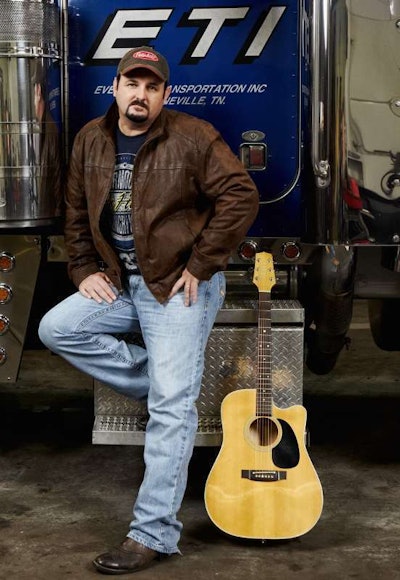 Tony Justice's "Apple Pie Moonshine" album, which hits the racks at major truck stops this month, represents the fruition of years of hard work on the part of the 42-year-old singer-songwriter and driver, today hauling for Greeneville, Tenn.-based Everhart Transportation Inc.
Following up a 2011 effort well-received in the trucking world – his "On the Road" disc – "Apple Pie Moonshine" picks up where that trucking-heavy album left off. It includes several trucking themes presented in foot-stomping romps, country ballads and radio- and chart-worthy country-pop gems.
Over the years, Justice has worked toward a singular goal: "I want to have a No. 1" single, he says. That's a tall order for an artist with no record-label affiliation.
But if things keep going the way they have been, don't count him out. The quality of the writing and production on the best "Apple Pie Moonshine" tracks are primed to earn wide attention – if not in the mainstream, definitely among the audience Justice knows best. That's you.
Justice's roots are in the Eastern Kentucky mountains, where he was raised in Elkhorn City, near the Virginia line. His father owned and operated "up to three trucks at one time" throughout Justice's childhood, hauling primarily coal and fuel. Weekend chores for him and his three brothers included washing and servicing the trucks. Fights would erupt over who'd get to move each truck when it was finished.
His memories of the communities surrounding Elkhorn City give the new disc's title track its subject matter. "Apple Pie Moonshine" is one of those romping foot-stompers, a paean to back-country square dances, young lust and homegrown good times. It's one of four songs on the 12-track album that Justice penned himself, and it was included on a sample disc available during a fall promotion at Petro Stopping Centers.
In 2000, Justice went over-the-road full time, but he never ignored the pull of music. From age 7, he played bass in his mother's gospel groups. He was "too shy then to get up and sing," he says. "I'd jump behind the piano and hide and play bass." His mother sang, played piano and passed it all down to him. She's "one of my biggest influences," he says.
In the 1990s, when he was playing rocking country, the 20-something Justice was fortunate enough to serve as one of the opening acts for the headlining Charlie Daniels Band at the Newport, Tenn., Forks of the River Jam. Daniels gave him advice in the form of a question: "If you knew beyond a shadow of a doubt that you'd never make it, would you still be doing it?"
The answer was yes, and Justice kept at it. Over the following decade, Justice never truly hit the music industry's mainstream and remained mostly independent of record-label affiliation. In the late '90s, he was a regular act on the NASCAR circuit when he cut an album called "Rockin' Rusty," the title track inspired by driver Rusty Wallace, whose fans may remember the song from ESPN's coverage of the racer's farewell-tour appearances. Justice was working on a similar project for Dale Earnhardt when the Intimidator met his maker at Daytona in 2000.
As Justice began full-time driving that same year, he found a muse in the freedom of the road and the drivers with whom he shared it. While driving for Southeast-based small fleets, he spent the long rolling hours mapping out tunes in his head, popping open his guitar case on breaks.
Special download for Overdrive readers | Readers can download Tony Justice's version of Eddie Rabbitt's "Drivin' My Life Away," featured on the new album, by following this link.
On the new album, "The Big Road" best captures the infectious nature of trucking life for so many. Though penned by songwriter Chris Wallin with Trace Adkins in mind for a Pilot promotion that went another way (Adkins also shares writing credits), the track feels much of a piece of Justice's brand of trucking music – big sound, sing-along melody and a rocking-country feel with a catchiness that'll have you humming the tune for the next week:
Daddy only let me drive on a dirt road
Blacktop was off-limits way back then
I remember that first day we hit that interstate
That highway got up underneath my skin
I've been rollin' ever since
I love to hear those big wheels whine
Access Overdrive's sneak listen to "The Big Road" via the video below, with photos from Justice's August vocal session at Nashville's County Q studio.

[youtube saICJMDvqqY nolink]
There's a straight-up honesty to many of these songs – and those on "On the Road" – that has done more than anything else to keep the Tony Justice name alive among what's become his core audience: fellow truckers. Justice hears poetry on the CB – see the "On the Road" opening track "Peterbilt 379" – and isn't afraid to throw in a classic trucking cover song where warranted. Two such gems grace "Apple Pie Moonshine": an uptempo version of Eddie Rabbitt's "Drivin' My Life Away," as well as Merle Haggard's "Movin' On."
Justice's understanding of his audience has helped him build a distribution network on a scale few independent artists are able to make stick. "On the Road" debuted in December 2011 with distribution at a majority of Pilot Travel Centers. Following an exclusive three-month deal with the chain – based in Knoxville, Tenn., near Tony Justice's Dandridge home – Justice set his sights further. By May of this year, the driver had managed contracts with KSG Distributing and Ingram Entertainment to distribute not only to Pilot Flying J locations but also to TravelCenters of America, Petro Stopping Centers, Love's Travel Stops and Wilco Travel Plazas.
His one-on-one work with Ingram particularly was significant, given the worldwide book and music distributor's reach and its history of not dealing directly with artists – only with publishers and record labels. "I made history with this company by being the first independent artist they've ever distributed," Justice says. "Hopefully, I pioneered a trail in the future for other independent artists."
The tracks for this month's release were laid down in Nashville, with session musicians organized by producer Jeff Silvey, who started the process Aug. 13 at Ocean Way studio on Music Row. Afterward, over lunch at nearby Losers restaurant with Knoxville-area businessmen Rick Long and Jim Conner, who've been behind his artistic efforts since he was a young songwriter in the early '90s, Justice reflected on the pair's involvement in his career.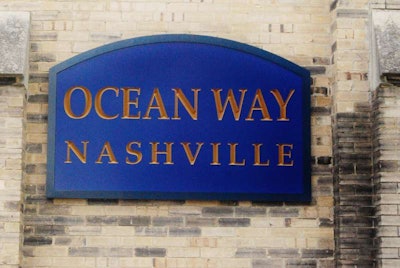 IN THE STUDIO | The sessions for "Apple Pie Moonshine" began with Tony Justice and producer Jeff Silvey (pictured below) – best known for his work with groups in the Christian pop and rock genres – at Ocean Way on Music Row. Other sessions followed a routine in which session musicians laid down live tracks as Justice sang a scratch (placeholder) vocal, then individuals came back and filled in parts as needed. Justice eventually laid down final vocals at County Q studios.
Find photo galleries from his first two sessions in the Aug. 13 and 22 entries on the Channel 19 blog.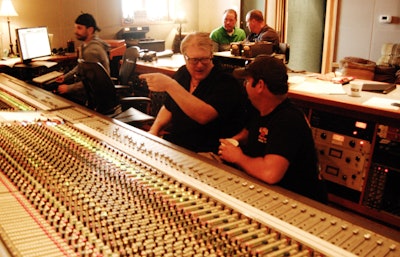 "They believed in my music even when it wasn't successful [financially] – believed in it enough to throw some money at it to get something going to see if something stuck," he says.
Their financial support over the decades has included investment in a touring bus, CD printing and studio recording costs. When their help wasn't enough, trucking has been there in more recent years. Justice also has received sponsorship from metal polishes maker Blingmaster and, most recently, Blue Tiger, known among drivers for Bluetooth-ready headsets and sound accessories. Among the single-song sponsors on his new album are the Missing Truck Driver Alert Network, Truckers Against Trafficking, Hotels4Truckers.com, J&S Trucks, TransAlive, AsktheTrucker.com, Women in Trucking and the WSM All-Nighter with Marcia Campbell radio show.
It's a tough-as-nails work ethic, though, that has driven Justice's success. He got that from his father, who he says "never complimented me to my face. That made me work much harder."
A track on "Apple Pie Moonshine" veils something of an autobiography. The rocking country "Bull-Wagon Train" – which Justice feels has great mainstream crossover potential – is about a bull hauler going about his day-to-day while keeping a foot in the world of professional rodeo riding, his true passion.
The "truck-drivin' man chasin' a dream" in the song is easily a stand-in for Justice, who's never given up either songwriting or driving exclusively for the other. When setbacks come in one area, the other picks up the slack. As he laid preparations for recording "Apple Pie Moonshine" this year, the small South Carolina-based carrier where he was working at the time went out of business. Perfect timing, in some ways – he didn't need to request time off and quickly found work with Everhart once the studio process was finished.
Like the bull hauler and rider in "Bull-Wagon Train," his mind filled full of "eight-second dreams in the hammer lane," Justice trucks toward more than just the next receiver. His dreams are more than mere ideas. They're well on their way toward reality.
[youtube M0ug0qffGXY nolink]
Podcast: Play in new window | Download