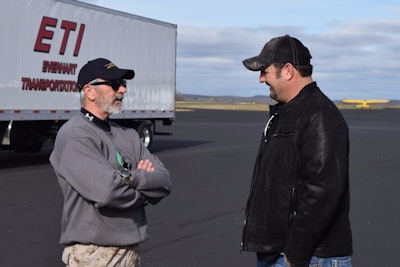 The title track from Tony Justice's very recently released record of the same name, his third since 2011, gets the music video treatment from whom else but Big Rig Videos' Chris Fiffie, well-known for his custom-trucks vids and owner-operator Rolling CB Interviews. Released in advance of the Mid-America Trucking Show last month, the "Brothers of the Highway" video combines clips from Fiffie's store of rolling custom-rigs footage with a variety of scenes shot on location in and around Nashville, Tenn., this past January.
The city was then the site of driver-songwriter Justice's vocal studio collaboration with country music star Aaron Tippin, also well-known for his trucking past. Tippin and Justice trade verses in the song, whose most famous prior cut was by George Strait, then sing in harmony through the choruses. Justice, speaking in the Overdrive Radio podcast from the scene at Nashville's Wimberley Music Studio, noted his goal with the song and the record to inspire a "sense of unity and brotherhood and togetherness" among drivers, likewise greater pride in a job well done, all of which he's felt paling throughout the industry in his decades involved in it.
"Brothers" was written by songwriters Doug Johnson, Nicole Witt and Justice collaborator Kim Williams, who co-wrote many of the songs on the "Brothers of the Highway" record. Sadly, Williams passed away earlier this year.
The record is making its way to truck stops around the nation following a soft unveiling at the Mid-America Trucking Show. It's now available at most TA Petro locations, Justice says, and distribution to other major chains will shortly follow. A download of the title track is available for purchase via this link.
Track back through Overdrive's recent-past coverage of Justice's music via the links below — and hear more via the lead tracks in the Music to Truck By playlist at bottom.