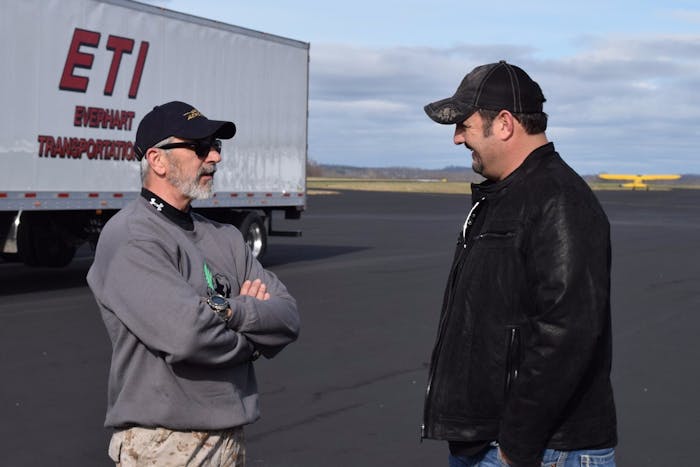 Trucker-singer-songwriter Tony Justice's upcoming "Brothers of the Highway" record has reached an important stop on its route toward the destination of its 2016 release. This week in Nashville, country legend and former trucker Aaron Tippin joined Justice and his producer, Nashville-based Jeff Silvey, at a modest-looking house on 18th Street in the Music Row section of town to lay down vocals for their collaboration on the record's title track, a song penned in part by Justice cowriter for many tracks on the album, songwriter Kim Williams, who wrote "Brothers" with Doug Johnson and Nicole Witt some time ago.
It was recorded perhaps most famously as an album track by George Strait, among some other bluegrass cuts, says Silvey.
The house was the former Muy Bueno Music Group headquarters, now housing Wimberley Music, Erv Woolsey's publishing business and including a studio Silvey utilizes for his production projects, he says. Woolsey, well-known as George Strait's manager for many years, notably has taken on Everhart Transportation driver Justice as a client in advance of the upcoming record.
Can you think of a moment in relatively recent history where two musicians whose careers are so identified with trucking got together on a song? I can't, that's sure. In the podcast talk with Tippin and Justice, with Silvey coming in at the end as well, Justice notes that bit of history in the making is of a piece with his goal for this album, to inspire a "sense of unity and brotherhood and togetherness" among drivers, likewise greater pride in a job well done, all of which he's felt paling throughout the industry in his decades involved in it. Below the podcast, you can run through the events of the session in the following photos.
Podcast: Play in new window | Download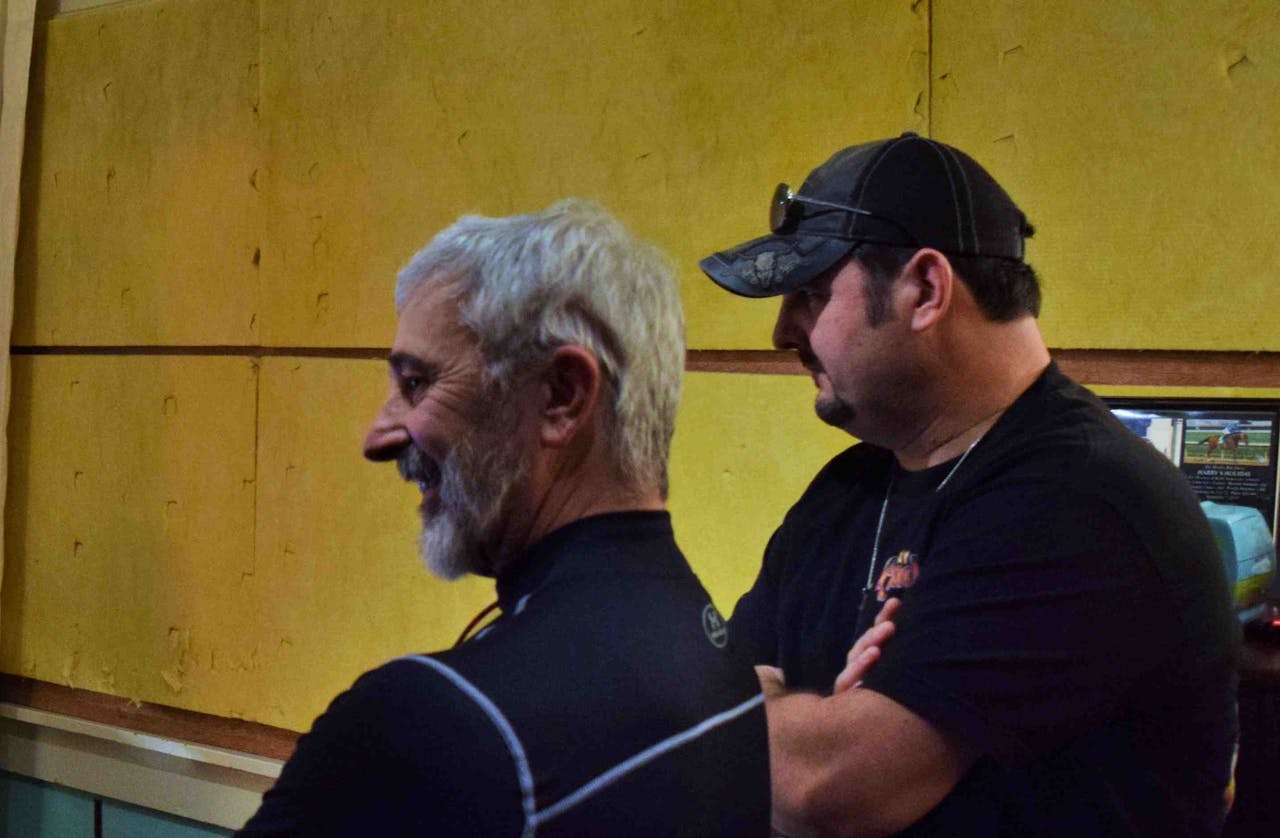 The day started with Tippin laying down his portion of the vocals for the "Brothers of the Highway" track. Tippin's coming off the 2015 celebration of his "25" 25th-anniversary record release, noting he continued to tour in support of it into 2016 -- he returned from Japan in time for this session with Justice. Read Overdrive's report on "25," including a podcast interview with Tippin, at this link.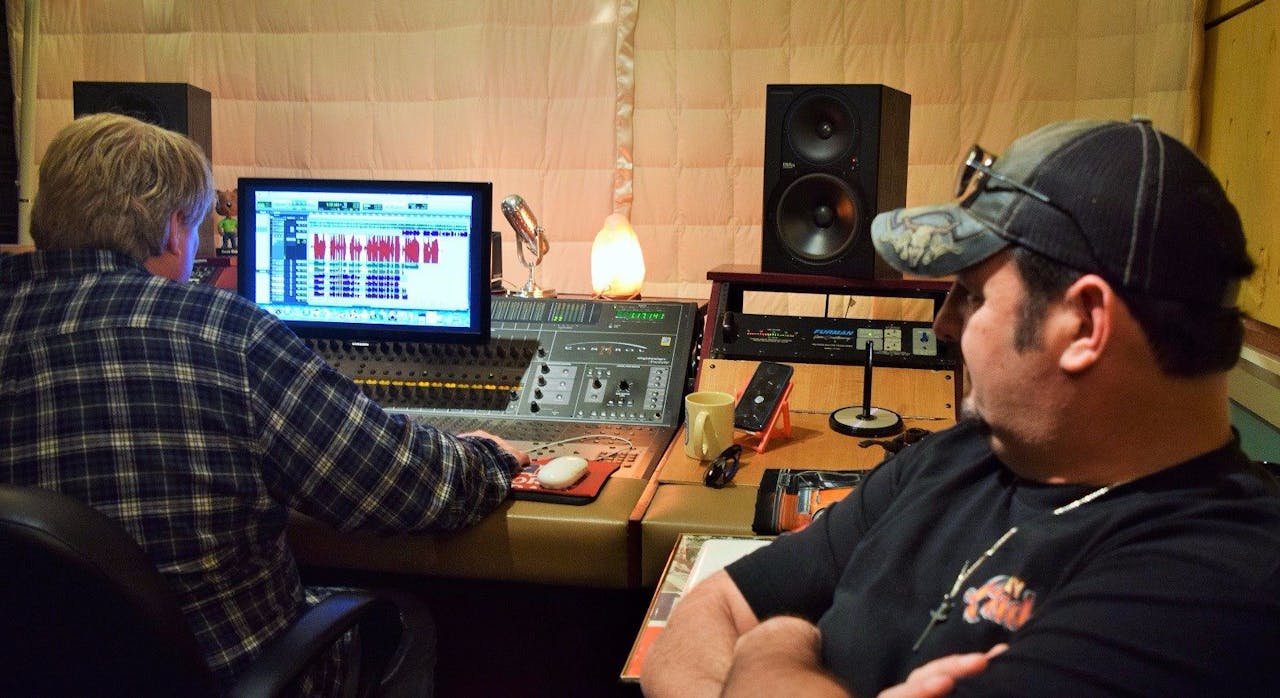 Justice, for his part, is coming off a year that saw his notoriety among the trucking community only continue to grow with performances at the Mid-America Trucking Show and on the main stage as opening act for John Anderson at the Great American Trucking Show in Dallas, among others. The latter performance is available in audio via this link. In the lead up to the "Brothers of the Highway" record's release, Justice pitched several industry contacts for sponsorship to help defray production costs, as he's done with previous records. For the title track, the Connecticut-based DPF Regeneration company will be listed as the song presenter upon release.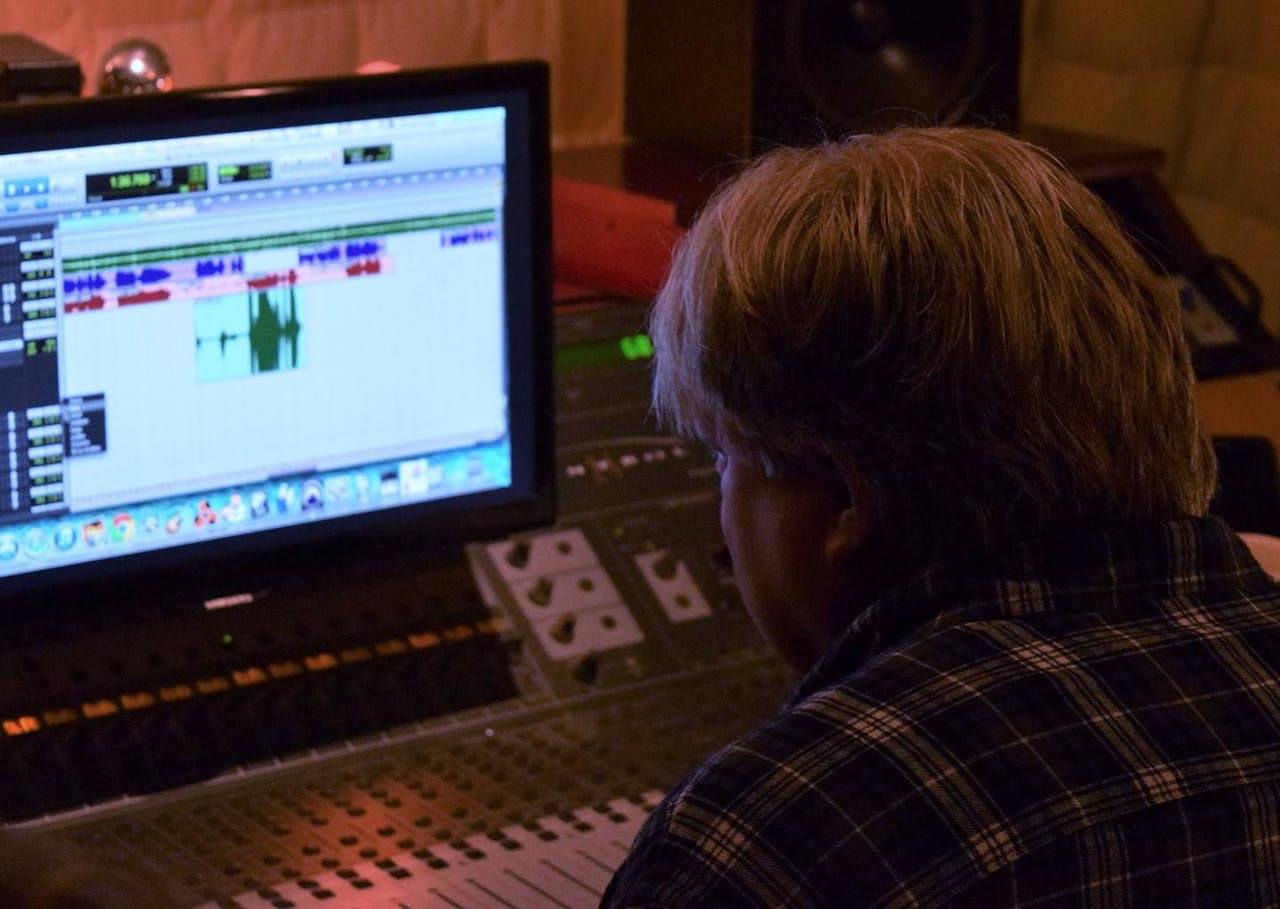 Producer Jeff Silvey in the control room. Silvey notes he and Tippin were both songwriters with the same publishing outfit going way back in Nashville and knew each other prior to this session, the first production effort the two ever worked together on.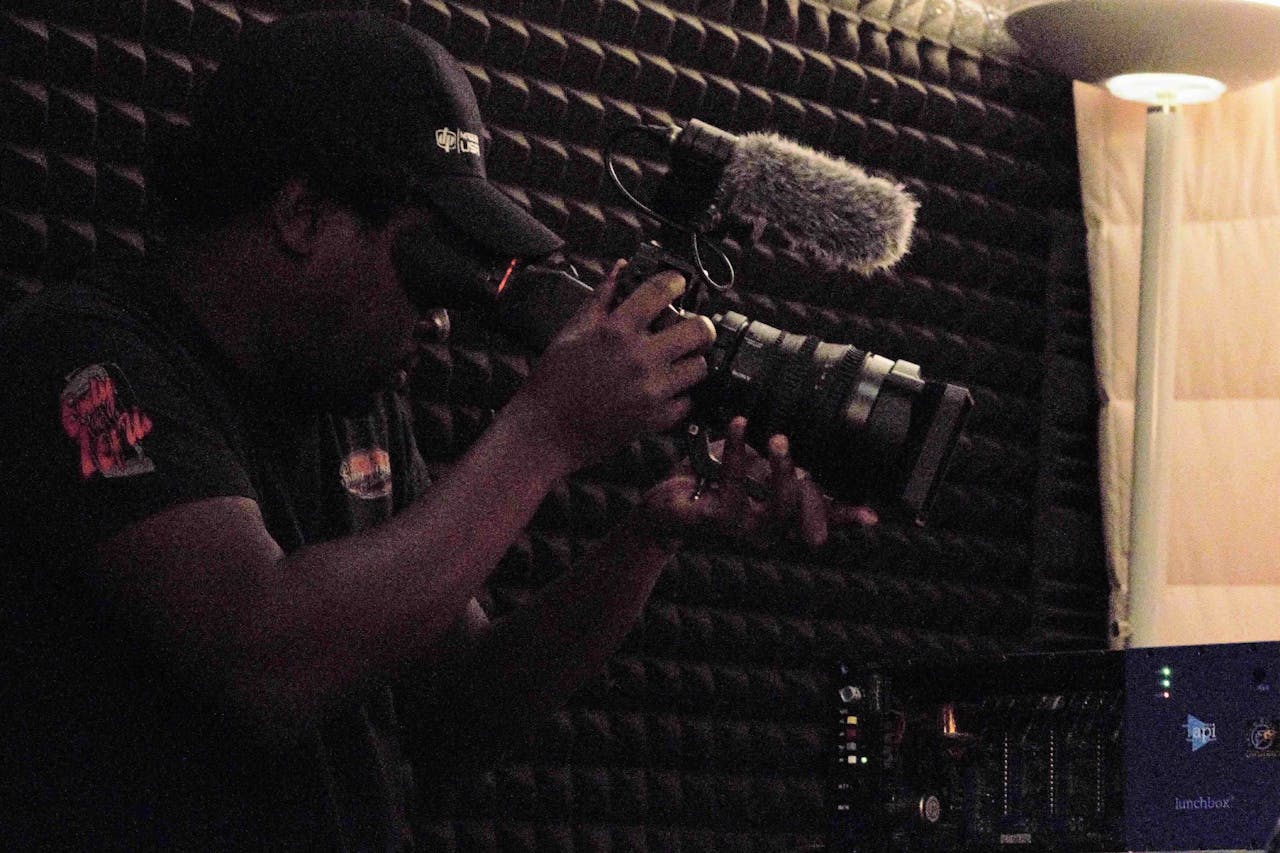 Who's that guy with the camera? Why, none other than Big Rig Videos' Chris Fiffie, who was on hand to capture footage that will ultimately become a music video for the "Brothers of the Highway" record's title track.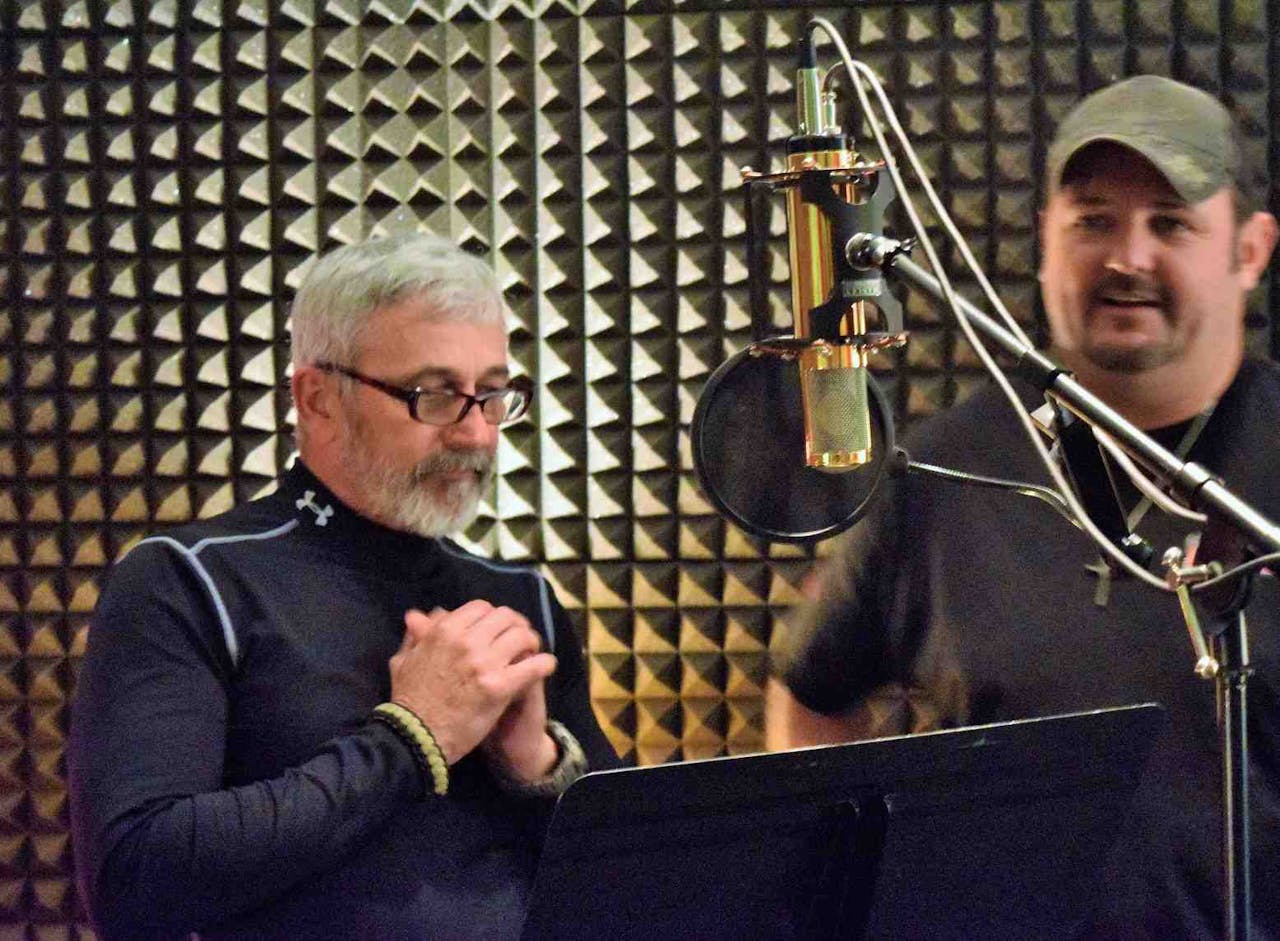 After Tippin completed his vocal work (Justice's own was already in the can after several sessions with studio musicians and Silvey completed in 2015), Justice and Tippin did a run-through or two for the benefit of Fiffie's camera. Fiffie also did the film work for Justice's "18 Wheels and Jesus" video from his last, "Apple Pie Moonshine" record. Read more about that (and see the video) here, and more about Fiffie's well-known Big Rig Videos Youtube channel at this link.