So goes the beginning of Pete Brook's story about a photo series by New Jersey-based Michael Massaia, now on offer over on Wired magazine's "Raw File" blog/series: "Within the trucking community, the phrase 'seeing the black dog' is used to describe hallucinations that occur as a result of sleep deprivation."
I've seen my share of "black dogs scampering across the highway" on long night drives, as Massaia described the phenomenon to Brook — Red Sovine of course used something quite similar for the frame of the story in his classic "Phantom 309" (voted No. 9 on our 2011 all-time-greatest trucking songs list) Debates over common shorthand language notwithstanding, when Massaia first heard the phrase he felt a sort of shock of recognition. Massaia deals off and on with insomnia. He shot all the late-night photos of parked trucks in the series, fittingly, as truckers took their federally mandated 10-hour sleeper-berth period well away from the black dog "between 2 a.m. and 6 a.m," Brook writes. The shot featured above has to be one of my favorites — to capture it and the rest Massaia utilized one of the oldest photo technologies available, a large-format view camera.
He set out to capture the black dog himself via night photography he took in and around Jersey Turnpike rest-stops and elsewhere in the state, Brook reported:
When an 18-wheeler's engine fell silent and the trucker climbed into the cab to slumber, Massaia would haul his 60-pound large-format camera from the bushes, close in, and capture the moment "the dogs melt away."
Follow this link (or click through the thumbnail image above) for a gallery of images from the series as well as further reporting.
Tony Justice in action, recording new record
The finished product, follow-up to Justice's "On the Road" record, could come as early as next month, Justice says, on hand here in Nashville taking some time away from the long road and recording at Ocean Way on Music Row with producer and songwriter Jeff Silvey. Man is it sounding good. A crew of session players spent this morning laying down licks for six tracks to appear on the album, from "The Big Road," penned by Chris Wallin with Trace Adkins in mind for a Pilot promo that never came to fruition, to an up-tempo cover of Eddie Rabbit's "Driving My Life Away" and several originals. I've written a little more about other of the original songs on the record in this post.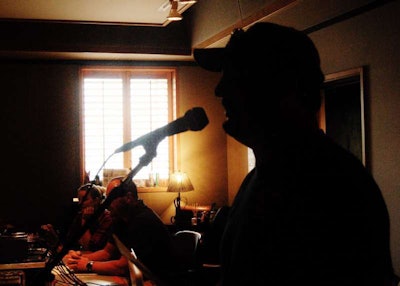 Last night, Justice sat in with friend and fellow songwriter Larry Cordle ("Murder on Music Row," "Highway 40 Blues", among others) and his group, including such long-established players at Carl Jackson, Rob Ickes and more with a standing Monday-night gig at the Station Inn — Justice sang a rendition of Keith Whitley's "Miami" to warm up a little for this morning, as it were.
I'll share a little from "The Big Road" rough track for a listen in a separate post over the next couple weeks. For now, find a gallery of images from this morning's session below — pros at work, as it were.