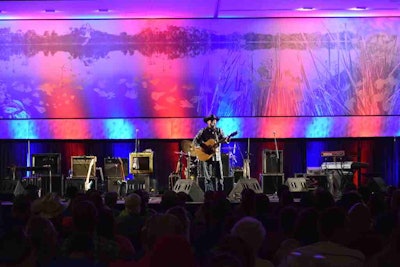 It was a big night Friday, Aug. 28, at the Great American Trucking Show for singer-songwriter and Everhart Transportation driver Tony Justice. Following two widely well-received albums of trucking songs (On the Road, Apple Pie Moonshine) and performances over the years at a variety of shows, Justice's first show on the big stage at GATS, opening for one of his musical heroes, John Anderson, was a special occasion indeed.
Between his second and third songs, Justice asked all the drivers in the crowded house to stand. They clearly made up a sizable majority of attendees in the hall. "From one trucker to another I want to thank you guys for what you all do," Justice said. "I just want you guys and gals to know one thing. If it wasn't for you men and women who sacrifice your times with your family, your home and your friends to sit behind that wheel to keep this country rolling, none of this would be happening here in Dallas."
Hear his entire performance in the podcast below.
Podcast: Play in new window | Download