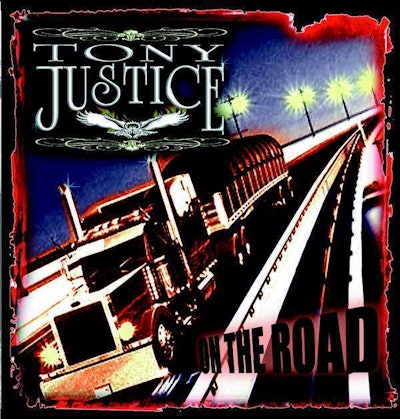 I'm excited about seeing East Tennessee-based B&B Transport driver and songwriter Tony Justice make his driver-event debut Saturday at the Truck Driver Social Media Convention in Tunica, Miss., on Saturday. I've heard him play before, as the vids below are evidence of, but at the show he'll be with a full band of seasoned Nashville players, and it's all leading up to the Nov. 1 release of his "On the Road" album (pictured), long in the making.
The disc will be available in November at Pilot Flying J locations nationwide, Justice says, and he's understandably excited. Justice cut his musical teeth on bass in East Tennessee gospel groups in the mid-late 80s, then playing original country at NASCAR events from around 1995 on (he played the Bristol events this year, for instance). Along the way, in trucking he found a great muse.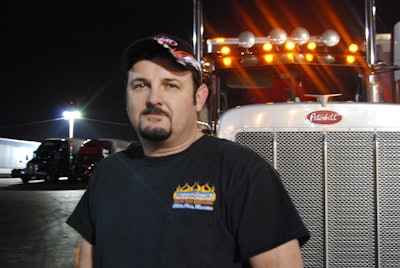 The forthcoming record includes a version of the Dave Dudley classic "Six Days on the Road," and numerous original or first-recorded trucking tunes to boot. Among my favorites are the rockin' opener, "Peterbilt 379," and the title track, a country boogie written by Kim Williams and Kenny Chesney. The last explores the difficulty of sustaining an on-highway marriage, primarily from the wife's point of view: "While he's out in the fast lane, her life's moving slow… She wonders if he's cheated / She hopes that he's been true / She knows he's thought about it / 'Cause she's thought about it too…"
Give a listen to samples from the record at Justice's page on ReverbNation.com, and check out the vids below, taken at the downtown Nashville TA, Justice playing acoustic from the cab of the 379 he drives. The second vid, of his "Who Needs Heaven?" is Justice's memorial to his father, who passed away several years ago. Following the song, Justice talks a little about his favor for an organic, honest approach to recording.
As for the Truck Driver Social Media Convention this Saturday, if you can't make it, keep tuned to my Twitter feed at https://twitter.com/channel19todd. I'll be posting various goings-on throughout the day. If you can in fact be there, well, I'm looking forward to the chance to meet. Here's the schedule of events for the day. See you in Tunica!
[kaltura-widget wid="2lqtg4hhu2″ width="400″ height="365″ addpermission="" editpermission="" /]
[kaltura-widget wid="dky7q198bw" width="400″ height="365″ addpermission="" editpermission="" /]