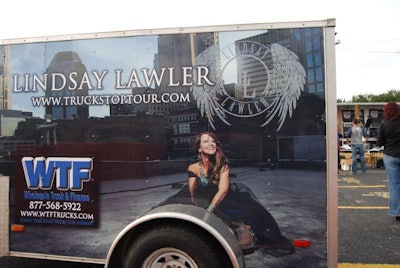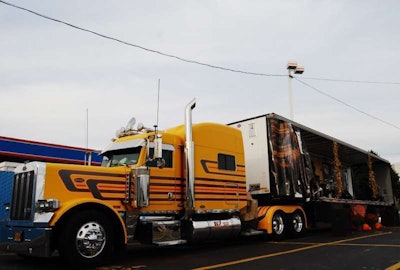 Last night wrapped up a two-and-a-half-month tour across the United States undertaken by musician Lindsay Lawler with a wealth of industry support, including that of the Truckload Carriers Association's Highway Angel program as primary organizer and numerous industry sponsors. Notably, Fikes Truck Line offered up use of the rig pictured here to haul the curtainside flat that functioned as stage — more on the rig via this linked post.
Kicking off last night's event at the TravelCenters of America location in downtown Nashville was the winner of a "Truckers Got Talent" informal competition conducted over the course of the long tour, Lawler says. At the 25 TA and Petro locations locations around the country where Lawler performed, audience members were invited to the stage to share their own tunes. Ultimately, one of them was asked to join the group at the gala event last night in Nashville.
Erin Flanigan, daughter of Tom Flanigan — the latter representative of the third generation of drivers and owner-operators involved in the family Flanigan Trucking/Drayage small fleet — was that winner. She performed her "18 wheels" song, among others, written this year in remembrance of her father, who passed away tragically in 2001 on the day he "came home from his last day at work" to retire. Find video of her performance below, likewise a photo gallery of scenes from the event and her performance.
The song had recently been written, says Flanigan, when in August Flanigan was returning home to Cincinnati from Nashville, where she'd been taking part in Renegade Radio's "American Country Star" competition. On the drive, she happened to stop for a bathroom break at the TA in Florence, Ky., and by chance met Lawler and crew setting up. "I had just written '18 wheels,'" she said, "and I sang it" that night for her father's memory.
Listen to the song below, likewise a segment of Lawler's own "Highway angel," captured in advance of the Tuscaloosa, Ala., stop on the tour. '18 wheels' winds down a poetic path from an understanding of the stresses of home life for trucking spouses to an understanding of the stresses of the road for those behind the wheel. The "now I know how lonesome Mama feels" refrain, by the end of the tune, not captured in the video, has shifted to "now I know how lonesome the road feels."
Lawler says she's already talking with other organizers about an edition of the tour next year, so stay tuned…
[youtube ouJNvpLX0Vo nolink]
[youtube G3NZqYAAJHA nolink]