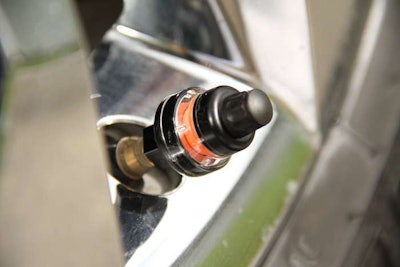 The folks at RightPSI have built a new valve-stem cap made in the U.S.A. and matched to desired tire pressure to give a visual indication when pressure is low or high. At 20 percent low, the otherwise black stem shows a bright orange. If overfilled, the color shows yellow. The caps are entirely mechanical, the company notes.
They've had a Kickstarter crowd-funding campaign ongoing since Feb. 15 now, and in no time they've met their initial goal of $20,000 for start-up — by a long shot. The company's well over $30,000 raised, and those interested in trying the product out have another month or so to pledge to the funding campaign.
It's no surprise, perhaps, given that RightPSI received the Popular Mechanics Editors Choice Award for Outstanding Achievement in New Product Design & Innovation, and it was an MSN Top Pick from the SEMA show. It's begun marketing the product to truckers, too, as you'll see in latter portions of the video below.
Rewards for contributions to the funding campaign, mostly, are sample packs of the caps, at least one or two of them big enough to outfit a tractor-trailer in total. For all campaign contributors, the company has pledged to reach out about your desired PSI rating before sending the caps. Though when the product initially makes its way to stores, they'll be putting out a "standard range of PSIs" of 28, 30, 33, 35 and 40, "we can make the caps to apply to any tire pressure that is commonly used," says rep Jack Zampolin.
You can pledge, and find out more information, via their Kickstarter funding page here.
And for a bit more on the technology, check out the video below.
[youtube 08clRXupLBU nolink]