Three cheers for average dispatchers
The fleet data-analysis-tools company StayMetrics revealed some results that overturned some common wisdom from the organization relative to dispatchers and the reasons drivers choose to leave fleets they drive for or are leased to, as such:
Tim Hindes, CEO of Stay Metrics, surmised that drivers who were very satisfied with their dispatchers would be significantly less likely to leave their carrier…. Hindes further hypothesized that dispatcher satisfaction matters only when drivers really like their dispatchers. "Great dispatchers really make a difference when they make their drivers really happy," Hindes said.
He was wrong on that point, though, a big driver survey that the company conducted recently concluded. "The dispatchers that really drive turnover were the ones who were very dissatisfying," the company press release put it. "Better dispatchers don't impact retention any more than those dispatchers that are just average." A driver who's neutral on his dispatcher is no less likely to stick around that one who's best pals with his dispatcher. It's those who are the physical embodiment of the "dispatcher brains" slang that really tip the scales.
Not exactly surprising results, I'd say. You?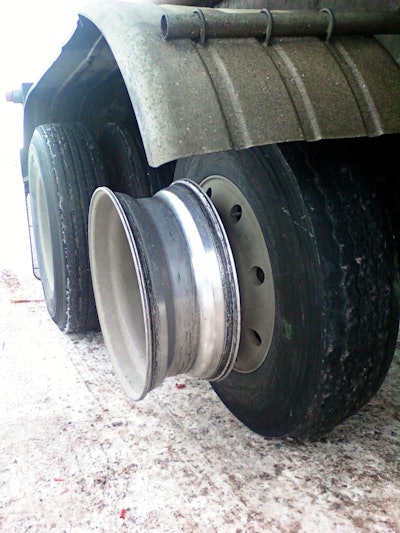 When the road throws lemons at you …
File this one under "don't try at home" because you're sure to be put out of service if you cross a scale (depending on your weight and, yes, the inspector) and you'll put undue stress on the remaining tire in the dual pair, especially if loaded heavy. But when put in a bind out there in the real world, some folks make calculated lemonade, to modify the old adage.
Such was the case with this picture from Cheyenne, Wyo.-based Don Christner, whom regular readers may remember from his son's neat GoPro vids or Christner's own account of the relief load he ran during the floods out West last year.
The lemonade was pretty well sour, though. Christner sent in the following text with the photo:
A tire blew out late at night in a very lonely place in Wyoming. You're talking a long time for help to come. So, I pried what was left of the tire off the rim and drove on. It came off pretty easy. The inside dual was just fine and I only had half a load. It looks funny, but goes down the road just fine.
So I make a stop and this guy comes over and says, "Driver, you've lost a tire!"
"No," I told him, "it blew out last night and I pried it off."
He says, "Well, you can't go down the road like that!"
I sure wish somebody would have told me that 200 miles ago! Four hours later it rolled into my home terminal in Cheyenne. We'll fix it in our shop!