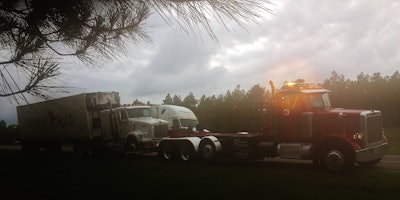 One man, one load, two trucks. This shot documents one of those "gettin' 'er done" moments where the availability of equipment and a little "where there's a will there's a way" spirit come through. It came in back in January following one of our "Get your load on" features detailing reader-submitted photography of some of their more interesting loads and I've been meaning to share it ever since.
Charles Rhodes says his breakdown made "for a long night" after the motor went down on the way to Charleston, S.C., from a home base in Augusta, Ga. Rhodes "had to taxi-cab back home to get my wrecker," after which he towed the combo the remaining "150 miles to Charleston, dropped the trailer" where it needed to be "and towed my broke tractor back to my shop."
Any similar stories out there? I suspect so — let's hear 'em!