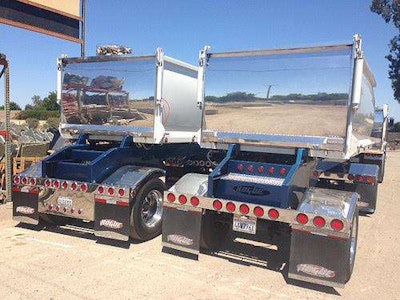 We recently asked readers to caption this photo on our Facebook page. The shot, sent in through our reader's photo gallery, begged the question: "What's with these two shiny trailer rears?" Aside from reader Chris Madron's — "To whoever put these in Overdrive: Thanks. That's mine on the left, and it worked five days a week and got cleaned every weekend" — here are a few of the other responses.
Stacy L Pullen: Do these lights make my butt look big?
Chris Gadarowski: How's that driving with your high beams on working out for ya?
Anik Mankar: If you can see yourself here, you are following too close.
Ben Lujin: No Anne Ferro, I did not log this polish job on line 4!
Peggy Shelton: Can you see me NOW?
David A. Marchand: Time for a selfie.
Michael MacRae: I wear my sunglasses at night.
John Thaxton: Don't have to be dirty to haul dirt.
David Bell: Offering double the trucker selfies for the price of one!
Feel free, but of course, to offer your own in the comments below…