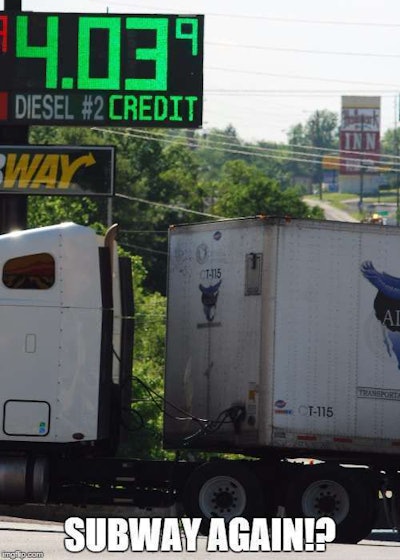 The above image shows John D. Hodges' clever suggestion for a caption to this photo — circa early 2011 as diesel crept back up above $4/gal. at the Love's on Trinity Lane at I-65 in North Nashville. Other notable suggestions, offered in response to requests for captions over on Overdrive's Facebook page, included Jerry Ward's "Ahhh, the good old days." 
Sarcasm? Could be, difficult though it is to read tone of voice into typed characters on a screen. Truth is, plenty of comments posted with reflections of the realities of a high surcharge for the fuel-efficiency-conscious among owner-operators — by which I mean pretty much all of you, of course. "We made better money with the higher FSC then!" exclaimed David Michael Quickel, with the addition of an Lol for a bit of that tone I was talking about. 
It's also amazing how a falling surcharge can expose an inadequate rate, isn't it? Here's Aaron Calabro: "I like when guys say they make more money when fuel is high. If you depend on the fuel surcharge, you are probably not charging the right rate" — or you're leasing carrier isn't.
Food for thought? You bet.
A few more good ones:
Zachary Griffith: Does it come with lube for your [expletive redacted].
Donald Ullstam: Even at $4, they continue using 9/10ths at the end to fool us.
Gabriel Martinez: Once upon a time there were greedy men. 
T.J. Muncy: The world was running out of oil then.
Mike Huwaldt: Hey, don't blame us, blame Obama.
Zachary Bell: Price gouging
Daniel Baird: NOPEC
Donnie Bacorn: Let's get it back up there…… $$$$
Eric Clark: Pain in the pump.