In follow-up to my post last week looking at recent rates versus current fuel prices — and concluding that by some views this year's stacking up quite well versus last year — I wanted to point out that DAT's Trendlines page makes getting a quick glance at rate performance year over year, minus fuel, fairly simple. And it does it by segment for both contract and spot averages.
DAT's fuel metric, as with other rate data, is derived from its RateView product, and reflects fuel costs per mile over and above a base price — traditionally $1.25 but varying from contract to contract — specified in carrier contracts. Spot and contract rate tickers in the line charts on these linked pages for van, flat and reefer segments then show base rates minus that fuel surcharge to give users a picture of where rates, controlled for fuel's sometimes wild fluctutations, stand.
Here's a screenshot of DAT's current interactive ticker for van, for instance: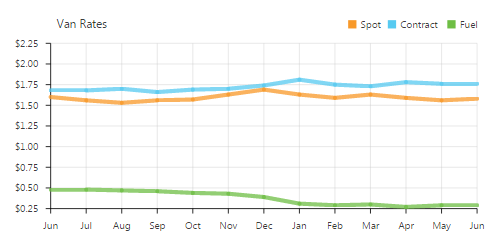 And here's a snap comparison of van and flat spot rates year-over-year for June 2014 and June 2015 via data at the Trendlines site.
As noted in the previous post, though owner-operators around the nation have seen real rates on the spot market fall considerably in the past year, the fuel adjustment shows base rates controlled for fuel are fairly steady, if down a couple-few pennies in the June-over-June average view above.
If rates are flat, where's the capacity crunch everybody keeps talking about?
In response to my post from last week, Kurt Keilhofer, commenting via Overdrive's LinkedIn group, wondered exactly that. Good question, Kurt. What do you say? Here's Keilhofer's full note:
If rates are flat, or slightly down, or even up a bit when compensating for lower fuel costs, any way you look at them they are not dramatically different. Now compare that thought with the trucking industry's hysteria over a driver shortage. The two are not compatible. If there was a shortage of trucks, rates would increase, dramatically.