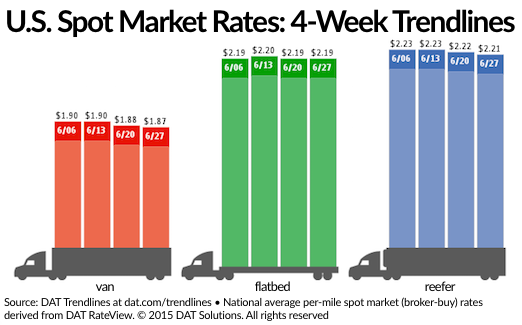 First, the latest from DAT, as shown above via their weekly Trendlines report on the national averages.
Demand for truckload capacity increased and national average rates on the spot truckload market remained solid during the week ending June 27, reports DAT Solutions, which operates the DAT network of load boards.
The national average spot van rate dipped 1 cent to $1.89 per mile (including surcharge)…
OK, let's stop there, as that "including surcharge" reflects a perhaps less-analyzed part of these quick-glance average-rates charts and metrics and analyses. Spot per-mile averages as a general rule will always fluctuate with the price of fuel, the biggest expense for any owner-operator, reflecting the all-in, non-surcharge nature of most spot negotiations with brokers.
Fuel costs this week, as shown in this report based on the Department of Energy's weekly diesel update, were also shown to have dipped by almost 2 cents a gallon. On a per-mile basis, however, that would only (assuming 6 mpg fuel economy) equate to a third of a cent per mile drop in rates — if fuel were the only thing driving spot rates.
So van rates, falling a cent per DAT, fell farther than fuel on a national basis. The same was shown in the reefer segment, while flatbed held steady despite the fuel price decline.
Truckstop.com (formerly Internet Truckstop) head Scott Moscrip noted the fuel-price dynamic relative to rates in my reporting for the recent "Cycle analysis" series of rates-related reports. He concluded that this year thus far, when you account for the year-over-year decline in fuel prices (about a buck a gallon as of May), rates on the spot market on average are really not down as far as some think.
Let's look at van and flat, which benefited in a greater way from unusually strong spot market demand dynamics last year than reefer, in May 2014 versus this May, utilizing Truckstop.com's paid rates data set. The May 2014 data is the left-hand bar in each pair:
At a glance, the fall this year is pretty dramatic. As Rates and Lanes podcast host and owner-operator Rico Muhammad noted to me recently, "Brokers are trying hard to get the pendulum to swing hard back in their favor as the rates have come crashing back down to earth this year."
But here's those 2014 and 2015 rates for van and flat controlled for the big difference between the cost of fuel (assuming 6 mpg) this May and last:
As part of my "Cycle analysis" reporting, Moscrip was quoted as such: "When you look at fuel today, it's approximately a third of the cost of running a truck. We've seen fuel down 30, 40, 50 percent in some places, but we haven't seen that corresponding drop in rates as we've seen in the past."
As shown in the above chart, on the spot market at least, Moscrip's right. In van and flat, operators, depending on the situation, may be doing even better than last year. Averages only tell part of the story, I know, and individual cases are different. What do things look like where you sit?
Examine rates by negotiation day, trailer type and more with Overdrive's interactive rates tool.