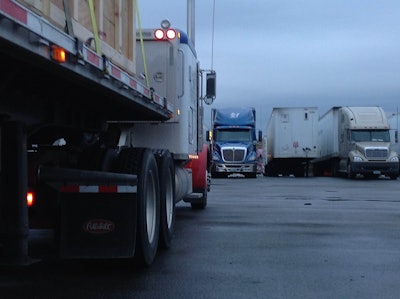 Two notes from readers around the country here. The first one comes from Rick Fine of Pueblo, Colo., who believes the truck stop chains might be doing more to increase the availability of parking around the nation. While all the major chains have been expanding, it's often by acquisition, essentially adding little if anything to overall options for parking in terms of volume. That's not entirely the case, however, as I know there has also been quite a lot of building going on. Nonetheless, here's Fine's note:
There should be a push for all the major chains to make an effort where possible to increase the size of truck parking areas. Create a special area for bobtails to park and don't allow people with travel trailers or RVs to take valuable truck spaces.
There's nothing worse than after a long hard day's driving to pull into a truck stop and find full spaces taken up with just a tractor or an RV.
Fine goes on to point to the natural-gas filling lanes that have cut into the parking spaces at some stops, too, with little use as yet. Any good examples out there of lots well-optimized to the traffic they get and/or doing any of the things Fine recommends?
Eats tip from a reader
This one took a different tack:
I started in the restaurant business in the '70s. Back then we were a waitress (not a server) and you could be yourself as the people you served were not as thin-skinned as they are today. Due to a problem with my arm I had to go into management. I say had to as tips were fantastic and a regular shift was all I had to worry about before this move.
Over the years I have seen the transformation of the fun-loving truck stop into a travel center geared around tourists. Of course, that backfired when people quit taking vacations. Today you have a handful of large truck stops with a 24-hour restaurant. The food is either thawed or "just add water." I really believe the dishwasher could read and fix [it himself]. It's everything but homemade, and I am fairly certain bad for you.
So when I tell you I felt like I drove through a time warp maybe you will understand. Nothing makes me happier than to get a load that will take me through Tuscumbia, Alabama. On the 72 E is Arnold's Truck Stop, which has Jody's restaurant if you like good food and friendly people. The prices are fair to boot. Just thought it should be shared that you can still find what used to be the norm. ….
Ever been there?