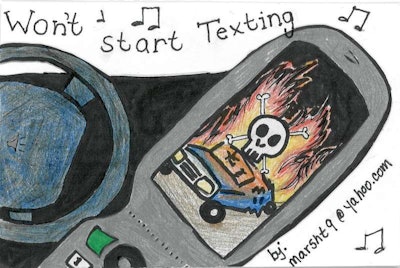 This one's been making the rounds on the trucking Facebook pages, including Overdrive's own, and it fired at least one cylinder in that part of my brain reserved for relatively recent memory.
In Pennsylvania, as noted the WHTM ABC affiliate in Harrisburg, on the occasion of official codification of the hands-free rule for truckers using cell phones in state law, more and more, drivers are taking the issue of four-wheeler distraction into their own hands, using the horn to let a passing driver know that they've been spotted with their eyes on something other than the road. Usually, of course, that means the cellphone in their left or right hand. And it's not just four-wheelers, as Jeff Whitt, responding to yesterday's Facebook post, made note of. "Just about got hit in Milwaukee today," he said, by a texting truck driver. "Thank goodness for a big shoulder."
The issue of whether using the horn to knock a distracted driver back to attention was lawful or not, or even safe, was perhaps the most interesting part of the WHTM report. You'll recall the case of the driver who was pulled over after he did much the same when he noticed an Illinois state trooper whiz by him at well upward of 70 mph with his hands on his cell phone. That officer, you'll recall, was right on the verge of citing the truck driver for "unlawful use of horn" when his conscience, in the presence of the driver's dashcam, got the better of him.
Here's what the Pennsylvania State Police had to say about the matter of horn use:
ABC 27 also contacted Pennsylvania State Police for their take on this truck driver texting crackdown. They said that the horn may only be legally used in emergency circumstances, but added that a case of a driver not looking at the road while traveling can certainly be considered an emergency.
At once, here's Overdrive reader Dave Bayne, who questions whether it might just be time to "use some common sense and focus on being careful and stop fancying ourselves as enforcers…. Maybe people should just learn to drive, right from cyclists to 'trained' professionals. There is a time and place for everything. Maybe a cop on a laptop in a residential area is not right, just as much as a regular motorist looking at their phone driving at 100 mph in bumper-to-bumper traffic is stupid."
What do you think?