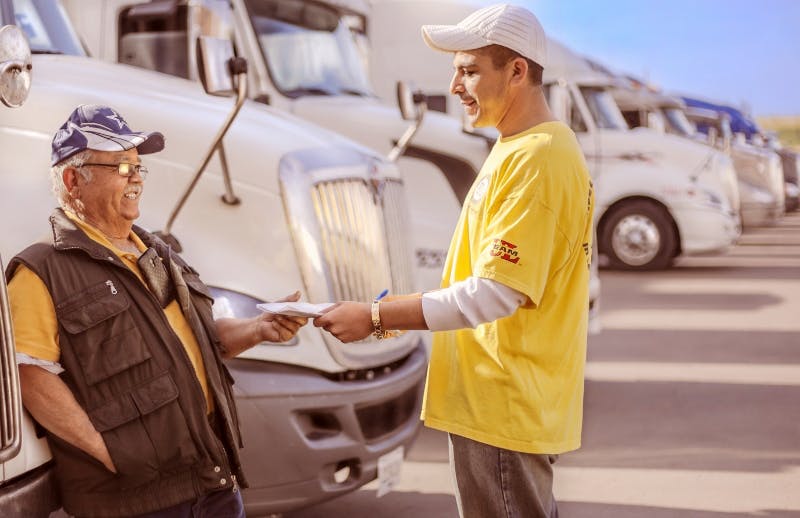 Drivers' detention problems at grocery warehouses are legion — as I wrote in the current-month magazine feature on the subject, such locations have the biggest, worst reputation throughout the entire industry for long hold-ups. Chance 2 Transport owner Rod Miller tells the story of one such facility in the story at this link, and it's something of a wisecrack that tells the tale best. He says of the Kroger facility in Delaware, Ohio:
"If you need a 10-hour break at the place you're delivering, that's a good place to go."
If you deliver to Safeway and other grocery distribution centers out in the Western states, the situation may well be different, and you may have noticed something particularly new there this week — doughnuts and coffee care of the lumper service dedicated to the locations below. The Universal Lumpers company says it's "excited to celebrate National Truck Driver Appreciation Week to honor all professional truck drivers for their hard work and commitment in tackling one of our economy's most demanding and important jobs."
Fair enough — in addition to hot coffee and doughnuts, perhaps something of the standard bearer for appreciation on most any jobsite, the company also notes it's giving each hauler a battery-charging device (for portable electronics) and another "thoughtful gesture": "verbal acknowledgement in person by each of UL's team members."
If only the unload were free, eh?
Here's a list of the distribution centers where UL teams are located (see below). Been to any of these facilities?
Denver – Safeway DC
Tracy, Calif. – Safeway DC
Santa Fe Springs, Calif. – Vons DC
Houston – Randall's DC
Dallas – Tom Thumb DC
Portland, Ore. – Safeway DC
Spokane, Wash. – Safeway DC
Tempe, Ariz. – Safeway DC
Tempe, Ariz. – Americold/Safeway DC
Denver – Americold DC
Denver – King Soopers DC