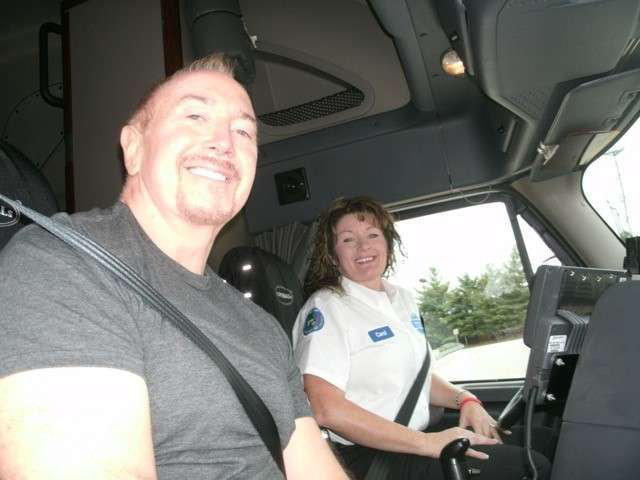 "Enemy" — yeah, that's how Ron Wood (pictured above with Walmart driver Carol Nixon) thought of trucks and truckers, according to a press release distributed by the Women in Trucking organization recently. No surprise there, really. Wood, active in the Citizens for Reliable and Safe Highways organization after several family members' deaths in a car accident with a truck (trucker at fault, fatigue a factor), represented CRASH on the FMCSA's Entry Level Driver Training Advisory Committee earlier this year.
Ellen Voie of Women in Trucking also sat on the committee, and she invited Wood to actually take a run in a truck — he'd never before done so, no surprise there either.
"When I met Mr. Wood it was clear that the loss of his family members had motivated him to focus on truck safety," said Voie, "but I was especially concerned that he didn't realize that the industry has the same goal. I wanted him to get a true perspective of the use of technology and the practices in place to avoid fatigue."
End result: he went on a short run with Nixon, a member of WIT's image team, out of Woodbridge, Va. He came away impressed, he said, with the "safety features, practices and professionalism" in the Walmart fleet, which well exceeded any expectation he had for the short haul.
And the rest of the trucking world? Well, maybe not much has changed in his thinking: "I only wish these safety measures were standard across all the trucking companies in the U.S.," he added.
Time will tell.