Above might well be one of my favorite shots that emerged from Overdrive's cover shoot with Texas independent Zach Beadle for this month's "Building the customer base" feature package. The shoot, led by Texas freelance photographer Brandon Wells, took place at the personal ranch of the gentleman at the center of the photo above, Kelley Thigpen, co-operator with Frank Helvey of Pearsall Livestock Auctions. (Thigpen is pictured with two of his sons, Dillon and Paden.)
Thigpen's personal Diamond Ranch near Bigfoot, Texas, Beadle says, is just Southeast of Beadle's home in Devine, and Beadle and Thigpen have built a close business relationship over the years. Beadle says he square in the center of the "authentic cowboy tradition that makes part of my success possible."
Originally, Wells and Beadle had it worked out to do the shoot "at the pens of the Southgate Ranch in Floresville, Texas," Beadle says, where Thigpen "was going to be working cattle in preparation for the end-of-year cattle sale" that Beadle would be hauling too very soon after.
Plans changed at the last minute, however. Thigpen wasn't "able to hire enough help for that day, so he told me that he was going to be at his personal ranch testing bulls and that we could come there to do the pictures. As it turned out, it was really the only 'best for all concerned' and 'best environment' way of getting this done," Beadle says.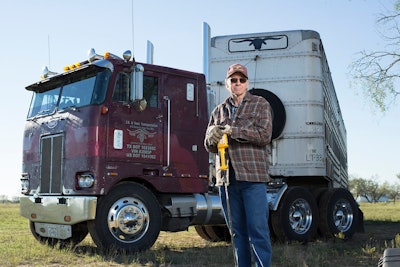 Well agreed, here. How 'bout you?
"The activity at the Southgate would have been too much like business for all the setups and staging that we did at the Diamond Ranch," Beadle says, ultimately.
A Godsend, in the end, he says, of a piece with Beadle's thoughts on just why things have worked out as well as they have for his long-running 1976 Peterbilt, multiple trailers and direct-freight clients and, overall, his one-truck business. While he's put in the time and work in a painstaking manner over his many years building it all, he says, he sees higher powers at work as well. "That's how I believe things work out, and that's how my life has been since my conversion experience in the Lord at 19 years of age in 1976. …
"Y'all know as well as I do that it takes more than just a desire and willingness to make it in anything. I believe that God has a plan for all of us, and those who know this have looked beyond the surface of life as we see it to find that there is more to life than just what we endure everyday."
You can read more about Beadle's equipment and business in this month's feature story as well as the following two linked stories from some time back. Run through the rest of the cover-shoot outtake photos by Wells below.