Before we get to owner-operator Fred Metzler's thoughts on household-goods haulers' challenges, a quick word from none other than Wes Memphis, which happens to be the obviously pseudonymous moniker for a Midwest-based former owner-operator turned company driver, coffee shop philosopher and former child. His writings will weekly chronicle his place in his small-fleet employer's transition to electronic logging devices, begun just this year. Enjoy
The Transition to e-logs, week one
Not as bad as I thought. Took naps and walks en route every day.
Not as hard-pressed as everyone claims. Suppose the quality of dispatch has a lot to do with that. Made 700 new friends on Facebook.
That's it for now.
Yours Truly,
Wes Memphis
Stay tuned for more in the coming weeks' installments from his cab.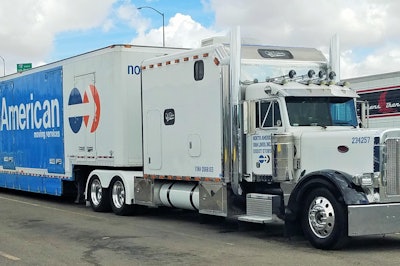 Pictured above is the 2001 Peterbilt 379 (and 136-inch ICT custom sleeper) of owner-operator Fred Metzler, hauling for the A1 Freeman company, a North American Van Lines agent based outside of Chicago. Metzler, who today calls Arkansas home when he's not hauling household goods across the United States, wrote me following publication of this overview piece in Overdrive on the household niche.
Metzler's been active in the niche for many years stressing what he sees as its unique challenges — and practices of some companies that, increasingly in his view, are cutting into owner-operators' incomes in the space to significant degrees.
"There is money to be made in the moving industry," he says, but the problem is that "freight haulers can also make similar money" at this point without the associated hassles of high-touch freight and all the ancillary duties that come along with it.
As regards his own business, he says, echoing a common refrain across the industry, "This year I made the same money I made 10 years ago," revenue-wise, "but costs have gone up by 30 percent" or more.
Part of the problem is that he and other household haulers have seen contracts renegotiated and resulting in drivers paying more for the services they rely on their van line partners for, such as shuttling loads into residential areas unreachable by tractor-trailer. In recent years, too, Metzler says, much of the industry has shifted from paying its contracted owner-operators and agents a percentage cut of non-discounted billable amounts to calculating the percentage cut based on distributable amounts instead, ultimately reducing the total compensation for all parties down the line. In a nutshell, Metzler says, "It used to be that we would end up with 60 percent of that overall billed number. Now we're down around 40. Only way I can make any more money is hauling the least discounted stuff."
He's always looking for ways to put more money in the driver's pocket, and has plans to revive a national HHG owner-operator group that sprung up in the 1990s but has since fallen by the wayside in activity.
For now, Metzler's encouraging other household haulers via his Mover's Life Facebook group to support a "National Movers Vacation Week" around the Fourth of July. He included the meme below in an email to me earlier in the week.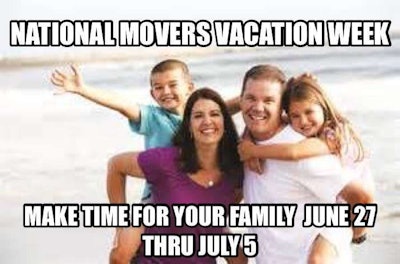 In general, the Mover's Life group, he says, is a wide-open forum for views, and includes not only haulers but other parties involved in the household moving industry. "There's realtors in there, the VP of my company [A1 Freeman]," and others.
As for the vacation week, "every mover I know," Metzler says, he's been asking, "How many times have you gone to see the fireworks with your kids? Do it this year. Enjoy some family time on the fourth of July. When you go back to work, that stuff will still be sitting," waiting to load.