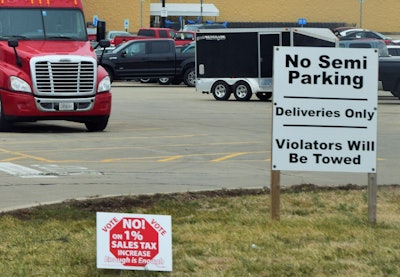 As noted ahead of previous installments in this chronicle of longtime former owner-operator turned company driver Wes Memphis and his transition to e-logs, known for embellishment, coffee-shop philosophizing and more, Memphis is based in the Midwest. Catch Memphis' previous piece is this series at this link. The following is his latest update:
The family I work for are among the best, if not the very best, I have ever had as employers. They'll start a guy out at a 10, then subtract points based upon one's individual performance. I've worked for the big outfits before, where they talk to you like special-ed teachers, starting you out at about a 2 and adding points over time. These people here just expect you to know what you're doing and leave you alone. They're like the good country neighbors you never hear much from until you're snowed in and have no power.
So when I was handed that Android tablet some 52 days ago all they really told me about extracurricular usage of that device was to not go crazy on Netflix, and they expected me to have enough common sense not to watch videos while going down the road. Now, to me, the most important thing about being a truck driver is knowing how to read between the lines. Sometimes you just have to know which instructions to disregard, which instructions to utterly disregard, and when to pray for the wisdom to discern between the two.
Example, you're in New York City and the sign says 12'8" right before the bridge, and five guys exactly like you just flew underneath it. Do you hit the shoulder of the interstate and get out your measuring tape, or do you disregard the signage?
You have a load of mulch going to a big-box store and they tell you "park over there." There's a big sign that says No Parking Fire Lane right where they pointed. Do you dig in your heels and refuse to break the law? Or do you just get the freight off the truck?
So, for me, when I'm told, "don't watch videos while going down the road," I suppose, truth be told, it makes me think that maybe a vid here and there while safely parked at the truck stop may not be the end of the world. And yes, all of this taking place on my e-log device. The problem occurs when the doggone app on the tablet that runs your e-log slows down your YouTube, and there's nothing more annoying than buffering in the middle of a Blind Willie McTell documentary.
So I closed out the e-log app, figuring I'd just log back in the following morning. Well, I was still a little groggy from just being back from vacation, and I can't think of a single thing more exhausting than a good vacation. Wouldn't ya know, I logged back in two minutes early. The big red clock came up informing me I had no available hours to drive. Dang it, I had just enough time to make it to Tyler without being late, and by God I don't run late. What would happen if I just drove anyway? Reckon we'z fixin' to find out.
I decided to just wait out the extra few minutes and put 'er in the wind. An automatically generated message came in, stating I was in violation, but that was the extent of it. I got the load there on time and camped out about four hours until dispatch came in.
When I got the nice young man tasked with administrating the e-log program on the phone and explained that I had logged in two minutes too early and was stuck in Tyler not knowing what to do, there was a pause… "Going forward [that's when you know you just messed up, when there's a pause and the next sentence begins with Going forward], Wes, if you know you've just made a clerical mistake that we can fix from in here, you can just keep going. The only problem you could have would be in the case of a roadside inspection, but we could still correct it once we got in."
I hung up that morning feeling just a little shy of a seven.
Read Memphis' prior installments in this series at this link.